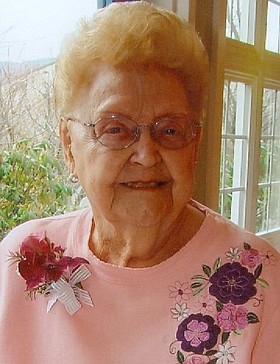 Lucille Lydia Troxel
March 8, 1922 - April 15, 2015
Lucille Lydia Troxel, of Hood River, Ore., died at her home on April 15, 2015. Lucille was born March 8, 1922, in South Haven, Minn., to Fredrick Maurer and Reka (Buss) Maurer. She was born the youngest of 15 surviving children and weighed 14 pounds upon her arrival. Lucille would attend grade school (walking 2 1/2 miles each way) through the eighth grade and would receive her eighth-grade diploma. High school was not provided for girls during this time. Later, Lucille would study and earn her GED in 1969; she was very proud of this achievement.
In July of 1940, Lucille would come to Hood River as a teenager to visit her brothers. While here she would meet Darrell Troxel. They would have a six-week courtship and were married Nov. 28, 1940, in Stevenson, Wash. They were blessed with three children: Ira Michael, Dwayne and Dianne. They were married 42 years at the time of Darrell's passing.
Darrell and Lucille owned and operated a dairy farm in Missouri. Together they would milk 21 cows. They were the first stop on the milk route for pickup, so they were up extra early. They were very proud that they were never late once for pickup!
In earlier years Lucille worked at the Fruit Cannery, Gambles Store and Western Auto. She worked at Duckwall Fruit Co. for 25 years and Moore Orchards Inc. for nine years before retiring at the age of 70. Lucille never missed one day of work while working at the packing houses.
She loved spending time with her family, children, grandchildren and great-grandchildren. She was a second mom to many, and would babysit many family and friends over the years.
Lucille loved gardening and always kept a beautiful yard and garden. She would can and share her fruits, vegetables, and meats. She really enjoyed cooking and would have family, friends and company over for her famous dinners. Until recent years, Lucille would insist on cooking the entire dinner herself. She is known for her fried chicken, homemade rolls, chicken and noodles, homemade ice cream, cakes, pies, cookies, and other treats.
In later years Lucille enjoyed watching game shows: Let's Make a Deal, The Price is Right, Jeopardy, and Wheel of Fortune.
Darrell and Lucille were members of the Hood River Saddle Club, and lifelong members of the Hood River Valley Christian Church.
Lucille is survived by her children, Dwayne (Jeannie) Troxel, of Parkdale, Ore., and Dianne Hayes, of Hood River; grandchildren Mark, Mara and Lydia Troxel, of Parkdale, Randy (Valerie) Hayes, of Hood River, Rob (Tonia) Hayes, of Husum, Wash., Reka (Tom) Sieverkropp, of Hood River, and Julie (Josh) Dillingham, of Hood River; 10 great-grandchildren: Maddie Hayes and friend Tom McAndrews, of Huron, S.D., Hayden King, of Hood River, Anthony and Amber Hayes, of Husum, Wash., Ryan, Austin and Weston Sieverkropp, of Hood River, and Bailey Hammel, Gracee and Kloee Dillingham, of Hood River; niece Lindamay (Roger) Woosley and family, of Hood River; nephews Michael (Suzanne) Maurer and family, of Hood River, and Aaron (Sue) Davis, of Kennewick, Wash.; granddaughter-in-law Melissa Hayes, of Hood River; former daughter-in-law Barbara Troxel, of Portland, Ore.; and good friends Charlie Deach and friend Kathi Green, of Lyle, Wash., and George and Charlene Fort, of Hood River.
She is preceded in death by her husband, Darrell Troxel; parents, Fred and Reka Maurer; infant son, Ira Michael Troxel; son-in-law (son) Larry Hayes; grandson-in-law Brian Hammel; and 14 brothers and sisters.
A service will be held at 11 a.m. Saturday, April 25, at the Hood River Valley Christian Church with a reception to follow, then graveside rites at Idlewilde Cemetery. Bob Huskey and John Ihle will officiate. There will be a visitation on Friday, April 24, from 6-8 p.m. at Anderson's Tribute Center. Those who choose to make a donation in honor of Lucille may do so to the Hood River Valley Christian Church. A special thank you to Lucille s caregivers: Julie Dillingham, Debra Laraway, Sarah Kahler and Lynn Sherrell, all of Hood River.
Our family wishes to thank the following people for their excellent medical care and treatment: Dr. Janet Sjoblom and staff at Providence Medical Group, and all the doctors, nurses and staff at Providence Hood River Memorial Hospital.
Arrangements are under the direction of Anderson's Tribute Center (Funerals • Receptions • Cremations), 1401 Belmont Ave., Hood River, OR 97031; 541-386-1000. Please visit andersonstributecenter.com to leave a note of condolence for family.

Condolences are being received online.