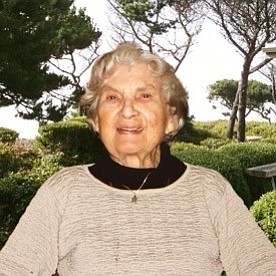 Elizabeth Kilbuck Asbury
November 29, 1918 - April 5, 2015
Elizabeth Kilbuck Asbury, raised in Hood River, Ore., passed away on Easter morning, April 5, 2015, at her home in Portland, Ore. She was 96. Born to Joseph and Novello Kilbuck Nov. 29, 1918, Elizabeth Henry Kilbuck spent her earliest years at the family farmhouse in Ottawa, Kansas. In 1923, the Kilbucks moved to a cherry farm in Pine Grove, which Elizabeth's father had swapped for the Kansas wheat farm. Tragedy struck a year later, when Elizabeth's mother succumbed to pneumonia, leaving behind four small children and a grief-stricken husband. Elizabeth, the second of the four, was just 5.
Under the watchful eye of Grandmother Kilbuck, the three oldest children -- Katherine, Elizabeth and John -- pitched in to take care of toddler Margaret and to participate in domestic chores. Little Elizabeth became the cook and baker for the household, a special talent that gave pleasure to all who ate at her table throughout her lifetime. When their father married Kansas friend Emma Stratton, the children had a mother once again, and were eventually joined by two more sisters, Helen and Edith. The family moved into Hood River, where Elizabeth and her five siblings completed their secondary education.
The Kilbuck children grew up during the lean years of the Depression. In addition to family chores, the children contributed to the family's income with part-time jobs like babysitting and delivering papers. They brought that same work ethic to their studies. Elizabeth, always a serious student, was the 1936 valedictorian at Hood River High School. She earned her Bachelor of Science degree from Oregon State College in 1941, then studied laboratory science at the University of Oregon Medical School (OHSU), where she met Frederick Asbury, a medical student. The two married in 1943, and Elizabeth worked at Portland's Good Samaritan Hospital laboratory while Fred finished up his internship and served as a Navy doctor in post-World War II Japan.
After the birth of their first child, Katherine, the little family moved to Corvallis, where Fred and two medical school friends founded the Corvallis Clinic. Two more children, Ray and Margaret "Peggy," were to follow. Elizabeth put her professional career on hold to raise their young children while Fred served his country again during the Korean War, completed an OB/GYN residency in Portland, and developed his practice in Corvallis. Though always a dedicated mother and supportive wife, Elizabeth never lost her intellectual independence and curiosity. When her children matured, she returned to OSU to earn a Master of Arts degree in 1972, and restarted her laboratory career, this time at OSU's Marine Geology Repository. In 1984, she took a leave of absence to care for husband through his terminal battle with cancer, then retired in 1985 to the Seal Rock vacation home where she and Fred had hoped to live out their days.
But life still held much in store for Elizabeth. At age 67, she surprised family and friends alike by joining the Peace Corps, serving first as a community health care volunteer in Fiji, and then in the offices of the agency's Washington, D.C., headquarters. Elizabeth returned for a time to Seal Rock, but she could not resist the lure of family and the rich cultural offerings of Portland. She made a final move to Portland, where she lived many active and fulfilling years at Terwilliger Plaza, and worshipped at her church, Trinity Episcopal Cathedral.
Elizabeth Kilbuck Asbury is survived by siblings Katherine Kilbuck Beggs and John Kilbuck, of California, and Helen Kilbuck Muchow, of Portland; her daughter Katherine Asbury Giachetti and son Ray Asbury, of Portland; daughter Margaret Asbury Kralovec, of Seattle; grandchildren Lorenzo and Michele Giachetti, Elliott Asbury, Margaret Asbury Roi, Anastasia Kralovec Anderson and Francis Kralovec; great-grandson Hunter Anderson; and many nieces and nephews.
Family and friends are invited to celebrate her life at a memorial service at Terwilliger Plaza, 2545 S.W. Terwilliger Blvd., Portland, Ore., on Saturday, May 16, at 2 p.m. In lieu of flowers, please consider a charitable donation in memory of Elizabeth Asbury to Legacy Hospice Services – Portland, c/o Good Samaritan Foundation, P.O. Box 4484, Portland, OR 97208, or the Trinity Episcopal Cathedral Friends of Music, 147 N.W. 19th Ave., Portland, OR 97209.