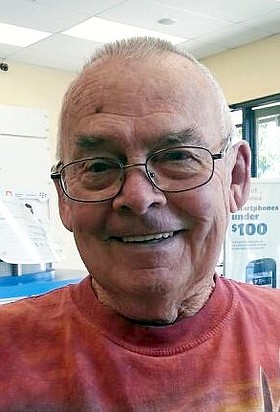 Richard "Dick" A. Phillips
January 2, 1938 - April 2, 2015
Richard (Dick) A. Phillips, of Hood River, Ore. passed away April 2, 2015, in Yuma, Ariz., from medical complications. He was born Jan. 2, 1938, in Tillamook, Ore., to Robert M. and Beatrice M. (Kirby) Phillips. He graduated from Tillamook High School in 1956, joining the United States Army where he was enlisted only a few months before his unit was disbanded and all were released from service.
Dick was preceded in death by his parents and a sister, Judith Barker, of Tillamook, Ore.
He is survived by his wife of 35 years, Darlene; a sister, Sally Fitch (Darrell), of Crooked River, Ore.; a brother, Robert Phillips (Kik), of Tillamook; and children Terry Phillips, of Tillamook, Gregory Phillips (Stacie), of Gresham, Ore., Brian Phillips (Bobbie), of Hood River, Darren Thenell, of Phoenix, Ariz., and daughter LeAnn Erikson (Ty), of Parkdale, Ore.; 16 grandchildren and five great-grandchildren; several nieces, nephews and cousins.
Dick put in more than 30 years' service as a weigh master for the Oregon State Highway Division, retiring in 1995. Some of his fondest memories began in 1970 with the West Side Fire Department, where its members became like family to him. He was a Little League softball and baseball coach and umpire for the Hood River District and Region for over 20 years, having the honor to be nominated and selected to umpire a Regional Little League softball playoff game in Portland.
Dick took great pride in teaching his children the art of hunting and fishing and looked forward to their big hunting trips each year. He also enjoyed teaching his cooking, baking, gardening and canning (sometimes a good experiment, sometimes not) skills to his children and grandchildren and loved sharing his creations with everyone.
Dick loved being with family, spoiling his children and grandchildren individually. He nearly always sent peanut butter or chocolate chip cookies home with any grandchild who stopped by the house. In his later years, you could always find Dick at the sidelines cheering for his grandchildren's sporting events, whether it was baseball, softball, water polo, soccer, track or football.
Dick and Darlene enjoyed many years traveling in their fifth-wheel to many places and wintering in Texas and the last couple of years in Yuma. He will be greatly missed by many friends, family, loved ones and people in all the communities wherever he was parked at the time.
A memorial service is planned at the West Side Fire Department, 4250 Barrett Drive, Hood River, Ore., at 1 p.m. on Saturday, May 2. In lieu of flowers, memorial donations may be made to the West Side Fire Department.