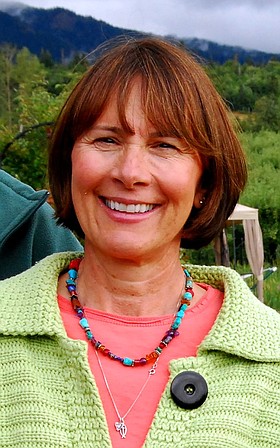 Bette Ann Benjamin
March 19, 1951 - April 23, 2015
Bette Ann Merz Benjamin's vibrant and fruitful life began and was lived out in the beautiful Hood River Valley at the foot of Mount Hood. She passed gently from this life April 23, 2015, at her home in Parkdale, Ore., with her loving and dedicated husband Rick by her side, and is now with our Lord and Savior, Jesus Christ.
Bette was born March 19, 1951, in the Hood River Hospital to Lewis and Janice Merz, the youngest of their seven children. The family lived at their fruit orchard in view of beautiful Mount Hood where Bette had a wonderful childhood, growing up as a country farm girl, surrounded by family, friends, and animals and developing a life-long appreciation of nature, birds and anything that could be grown. Bette's exuberant nature showed itself often through childhood adventures such as the time she and her sisters brought a horse into the kitchen just to see what would happen; or since she was the youngest of seven, there was no big-girl bed available and at 7 years old she was still in the crib. Bette got tired of climbing in and out over the rails, so without asking, she got her dad's saw and cut the side off the crib to make her own big-girl bed.
She attended Parkdale Elementary and Middle School and graduated from Wy'east High School in 1969. Through her school years, she participated in numerous activities, including 4-H, Job's Daughters, cheerleading, gymnastics, tap and other forms of dance. After graduation, Bette left Parkdale to attend the University of Oregon and graduated with a degree in physical education and health in 1973. In the early 1980s she and Rick completed Master of the Arts degrees at Lewis and Clark College.
Bette met Rick Benjamin in school in 1966 and they married in 1971. Bette's love of colors was on full display during the wedding, with the rainbow spectrum on the bridesmaids' gowns, each in their own bright color. They celebrated 43 years of marriage last August and were together as a couple 47 years.
After completing studies at U of O, Bette and Rick returned to Hood River to work as teachers. In 1978, they acquired land and began farming their orchard for pears. Bette taught middle school at Wy'east until 1977 when she and Rick started their family. Bette and Rick were blessed to have three daughters: Vanessa, Cecily and Lindsay. She was a busy mom to three active girls growing up on the farm and was always ready to play (while teaching them important lessons at the same time). They were involved with 4-H — raising sheep, goats, dogs; and also sewing, photography and cooking — all projects that Bette loved doing, too. She was highly involved in The Hood River County Fair every year beginning from childhood and long into her adult years.
In 1980, Bette combined her desire to teach, to promote physical fitness and to provide service to the community, all while still being available for her family, when she founded Rainbow Gymnastics School. She loved teaching in that capacity for 21 years and many children in Hood River County — in addition to her own daughters and other family members — took lessons from Bette. In the later years, the classes included some second-generation students — children whose parents had gymnastics classes with Bette when they were young.
Music was a life-long delight for Bette. She enjoyed music of many genres, especially Christian music. She loved to find and use lively, joyful, upbeat music for the children in her gymnastics classes. When she wasn't teaching gymnastics, Bette still found an outlet for her love of music and dance. If a song she enjoyed came on the radio, she often gleefully started dancing with those in the room (line dancing, swing, tap, jazz – whatever fit the beat). It was one of the many ways that her spontaneous, positive spirit expressed itself and would infectiously build up all those around her.
Along with raising Vanessa, Cecily and Lindsay and operating Rainbow Gymnastics through these years, Bette was also a hard-working farm wife and partner in the orchard, working side by side with Rick as they enlarged and improved the orchard and raised high-quality fruit crops every growing season. As the Benjamin girls grew older and moved onto college and into their adult years, Bette returned to teaching for Hood River County School District and for several years was the PE teacher at Pine Grove Elementary School. She was such an encouragement to her students and she led them to enjoy physical fitness so much that they tracked their running miles and received a national "Road Runner" award, which she and Rick went to New York to accept on behalf of the hardworking Pine Grove students of which she was so proud.
Bette loved her family and friends. She and Rick were grateful to live near most of their siblings and friends. Bette was a devoted daughter, a treasured little sister, a cherished wife and a loving and dedicated mother and grandmother. Bette's greatest joy and happiness was being with Rick and her daughters, their husbands and the grandchildren. Whenever grandkids would visit, Bette was promptly on the floor playing with the youngest ones or doing crafts and projects in her garden and kitchen with the older ones. She and her grandkids were inseparable and they loved their time with Grandma and Grandpa.
She was also a special person to her many nieces and nephews. Her love for people and caring nature extended beyond family. Bette valued friends from all the eras of her life, maintaining many of those friendships throughout the years. But she didn't just keep the old friends — Bette added deep friendships all her life with people of all ages. Bette and Rick warmly welcomed the many young friends her daughters invited home and made them feel like family, it was very important to her that everyone felt welcome and included. Bette's many dear friends will miss the warmth and kindness of a cherished friend.
Her family was her joy. Rick was a wonderful husband to grow with through the years and they have enjoyed a sweet, God-centered life together. Bette was proud of the women her daughters have become and the families they are growing. She welcomed the young men who would later marry Vanessa, Cecily and Lindsay, and loved them as her sons. As each grandchild was born and the group of Benjamin grandkids grew more numerous (eight and counting!), spending time with them had been a delight for Bette and will continue to be for Rick. A particular pleasure has been hosting these cherished little people from time to time — allowing their moms and dads a little time off from the busy job of parenting. And the grandchildren were blessed to spend time with their loving, playful, creative, energetic Grandma Bette. Her grandkids always loved the spontaneous opportunity to take a "Gator ride" with Grandma around the orchard, or to "help Grandma" by catching tadpoles, frogs and salamanders from her garden pond. Bette always used these times for fun, but never missed a teachable moment to teach her grandchildren about God, how to treat others respectfully, and the value of a job well done.
Bette was a woman of unwavering Christian faith. In her young years she attended Parkdale Community Church. She and Rick have been involved in the Hood River Christian Missionary Alliance Church for many years now and have served as deacon/deaconess for the church, led home Bible studies and taught Sunday school over the years. Bette's faith walk was expressed not only in her service at church, but was evident throughout her home, conversations and interactions with everyone she met. Bette would regularly spend time reading God's Word and would post snippets of Scripture around the house to provide encouragement to her and others. If people asked questions about the Scripture, she would use this as an opportunity to witness to others about what Jesus has done in her life. She was a fearless prayer warrior and she and Rick would diligently hold others up in their prayer time, they benefitted countless others through their loving and faithful efforts.
Bette loved photography. She appreciated quality pictures of accomplished photographers and always had a camera available to capture special moments around her. Bette's love of wildflower hikes in the spring was something she inherited from her mother, Janice. She loved getting out in the beautiful natural landscapes around Parkdale or anywhere in the beautiful state of Oregon at any time during the year. Her appreciation of nature inspired her love of gardening and Bette created spectacular gardens around their home. She took great joy in the bounty, beauty and vibrant array of colors from her flower gardens and they were a centerpiece of many family events, and provided visitors with a gorgeous eyeful as they arrived at Rick and Bette's home. Bette could see the beauty of God's creation represented in the simple artistry of a fresh blossom.
Bette delighted in treasure-hunting trips to Goodwill and was famous for finding just the right item for whatever purpose, most often for her family and friends. Dogs were her beloved companions and she often had multiple dogs at a time
Bette was a bundle of energy. There was always a project (usually three or four simultaneously) going on at home in addition to the work of day to day, season to season life at the farmhouse. Bette loved family photos and had them prominently displayed around the house along with craft items from daughters, grandkids and other young friends. She loved to decorate the family home for holidays with her many beautiful pieces of art, antiques and family heirlooms. Having family and friends for dinners in the house in winter or summer, and barbecues outdoor on the deck with the spectacular view of Mount Hood were a special treat. Bette was famous for dinners of chili and cinnamon rolls at any time of the year.
She used the gifts she had been given in life, for service to others. Bette always put others before herself, and deliberately looked for ways to serve her family, friends, students and community. She sincerely believed the words of Jesus, that "it is better to give than to receive," and "to treat others as you would have them treat you." Bette viewed her first calling as service to God, through serving those around her and would often invite relatives, friends or students into her home in the hope of helping them through hard times by demonstrating what a positive, Christ-centered life looked like.
Travel was something Bette loved to do with Rick — especially to visit family and friends. The Oregon Coast was always a favorite destination but an exciting trip to New York City a few years ago was a special event and among several they took around the U.S. Gardening, attending music concerts and theater, and watching sporting events — especially football, basketball and gymnastics — in person or on television — are some special activities that Bette and Rick would enjoy together in their spare time.
Bette is survived by her beloved husband of 41 years, Rick Benjamin; daughter Vanessa Rice and her husband Nathan and their children Hannah, Emily, Benjamin, Joseph and David of Parkdale, Ore.; daughter Cecily Watrud and her husband Eric and their children Naomi and Samuel of Lakeview, Ore.; daughter Lindsay Holmson and her husband Andy and their son Lucas, of Bainbridge, Wash. She is also survived by her sisters Pat Campbell, Ruth McAlexander, Sue Donnelly, her brother Lewis Merz Jr. and their families.
She was preceded to Heaven by her parents, Lewis and Janice Merz; sister Judy Wyers and sister Mary Lou Tolbert.
Memorials can be made in Bette's name to The Great Commission Fund through Hood River Alliance Church, 2650 Montello Ave., Hood River, OR 97031, the Pancreatic Cancer Action Network, 1500 Rosecrans Ave., Ste. 200, Manhattan Beach, CA 90266, Hood River Rotary, P.O. Box 355, Hood River, OR 97031, and Providence Hospice of the Gorge, 1630 Woods Court, Hood River, OR 97031.
Bette will be greatly missed, but we are all blessed for having known and loved her. A Celebration of Life service will be held at the Hood River Alliance Church Saturday, May 2, at 11 a.m.

Condolences are being received online.