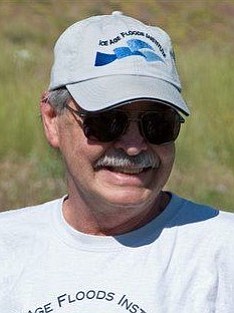 Terry Wayne Hurd
January 8, 1944 - July 25, 2015
Terry Wayne Hurd, of White Salmon (formerly of Endicott, Wash.), passed away on July 25, 2015, surrounded by his family. Those who knew him knew that Terry was always right and he proved that by keeping his vow that he would not allow lung cancer to beat him and it was his well-worn and much-used heart that gave out after 71 years of love to family, friends and pets.
Terry was born Jan. 8, 1944, in Great Falls, Mont., as the oldest child to Archie and Virginia Hurd (Newt) and older brother to his much-loved sister Cheri Bridges. Terry was a charming and affable young man with a wry sense of humor and a knack for problem-solving. Like when his mother grounded him and told him he could not take the car into town to see his girlfriend so he took the family horse instead.
A man with a great love for his country, Terry felt compelled to volunteer to serve his country and enlisted in the U.S. Air Force in January 1965 just after his 21st birthday. He worked as a voice intercept processing specialist for the USAF and was sent to Indiana University that same year to learn Russian at the language school.
Terry was an avid bowler and it was at the local bowling alley at the school where he first noticed a beautiful young brunette named Patty Millay. Although he contends that he was only looking for a doubles partner and drawn to her by bowling skills, her form on the lanes was not the only thing that caught his eye and the two married on Dec. 23, 1965, giving him a doubles partner for life. Terry left the USAF after obtaining the rank of E5, staff sergeant and after earning numerous medals and commendations for his service during the Vietnam War.
Terry and Patty had three daughters who would turn out to be just like him (as his mother had warned) and would create all sorts of havoc in his life. Although Terry may have silently wondered what he had ever done to earn a life in a household full of estrogen, he was a loving and supportive father and husband. Some of his family's favorite memories of him include the year that the family got a new food processor and Terry decided that putting all of the leftovers from the refrigerator — and I mean all of them — pulsing them together and frying them into a dish he called Scrapple (and which his wife and girls called Crapple) was a good idea. He also loved to play pranks on telephone solicitors, like when he put the family's phone number in the phone book under the family dog's name and when a caller would ask for "Fred J. Hoople" he would reply that Mr. Hoople was either out chasing a car, peeing on a fire hydrant, or (to his daughters' horror) busy licking himself. And woe be it to anyone who came to the door and tried to engage him in the theory of creation versus evolution.
Terry was a devoted Seahawks, Mariners, and University of Washington fan and spent his lifetime positive that if he yelled loud enough at the TV, the coaches and players would hear him and follow his sage advice, which obviously did not work judging by the last play of the Super Bowl. He was such a devoted fan that even on his last day, he sent his wife home from the hospital to get his laptop so he could watch the Mariners game. The family is eternally grateful to the M's and King Felix for sending Terry out with one final victory.
Terry was a man of many varied interests. He loved home-brewing, Jeopardy, was a member of MENSA, a supporter of the All Classical Music station, voracious reader and an extremely passionate amateur geologist. He was the founder and president of the Columbia River Chapter of the Ice Age Floods Institute, finding in it a wonderful group of friends and kindred spirits. He was known as a man with a witty T-shirt for all occasions. He earned his Bachelor of Science degree in biology from Brescia College in Owensboro, Ky., but was a life-long learner and continued to study throughout his life at University of Washington (go Dawgs), Eastern Washington University and Washington State University, among others. Although there were rumors that he attended so many schools because he kept getting kicked out of them for setting up poker games in the elevators of the dorms, the truth was simply that Terry followed his passions wherever they led him.
Besides his family, Terry was most proud of his service in the USAF, that he bowled a perfect 300 game, his work as a fisheries biologist at John Day Dam and for donating over 69 gallons of blood during the course of his lifetime to the American Red Cross.
Terry is survived by his wife of 49 years, Patty; his three daughters: Diane (Schneider), Rebecca (Crowe), Kristine (Hilton); six grandchildren: Madison, Lance, Whitney, Justin, Ryan and Megan; his sister Cheri (Bridges); stepsister Becky (Waati) and stepbrother Jerry (Newt); and his beloved and well-spoiled dog, Blackie.
He was preceded in death by his father, Archie (Hurd), mother Virginia (Newt), stepfather Ernie (Newt), stepbrother Jimmy (Newt), sister-in-law Peggy (Newt) and too many much-loved dogs to name here.
In honor of his memory, the family asks that you help Terry achieve his life-long goal of donating 100 gallons by donating a pint of blood in his name to the American Red Cross or making a monetary donation to your local shelter or Humane Society. Better yet, adopt a pet in his name. To further honor him, thank a veteran for their service, make a donation of any size to the All-Classical Music station and raise a frosty glass of home-brew in his name.