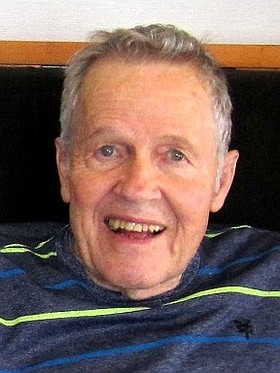 Joseph R. Kelsey
January 6, 1933 - August 15, 2015
Joseph R. Kelsey, 82, of Hood River, Ore., passed away Saturday, Aug. 15, 2015, in Hood River, with his family at his side. Joe was born Jan. 6, 1933, in Salem, Mass., the second son of Seth L. and Penelope R. Kelsey of Boxford, Mass. He grew up on his parents' extensive nursery of hardy native plants, attended the two-room Boxford Grammar School, and graduated from Punchard High School in 1951. He attended the University of Massachusetts, in Amherst, where he competed on the track team and was known for his spectacular, come-from-behind victories.
Joe served three years in the U.S. Army, stationed in Germany during the Cold War, where he served in the Army Security Agency, in charge of a detachment that monitored Russian radio communications along the West-East German border. After completing his military service and swearing to forget everything he had seen, heard, and done in army security, Joe returned to the University of Massachusetts and graduated in 1960 with a degree in forestry. He attended Duke University in Durham, N.C., earned a Master of Arts in teaching, taught high school science one year at a nearby Virginia high school, then headed west, with no particular destination in mind.
Arriving in Seattle, Wash., Joe worked for three years as a biologist in the Oceanography Department of the University of Washington, where he met his future wife, Victoria "Vicki" Creasey. In the Oceanography Department, Joe also met his lifelong friends, Willis "Bill" Peterson and wife Gail, with whom he and Vicki enjoyed many memorable outdoor fishing and camping adventures throughout the years, including an epic 21-day backpacking trip through the Washington Cascades.
Joe and Vicki married in her hometown, St. Helena, Calif., in 1966, and lived two years in Palo Alto, Calif., while Vicki attended graduate school at Stanford University and Joe taught junior high school science. They then moved to Washington state where Joe taught secondary school science in the Seattle area.
Having fallen in love with the Columbia River Gorge on a previous trip, Joe jumped at the chance to move to Trout Lake, Wash., where he and Vicki taught secondary school for four years and then, in partnership with his brother Seth "Sandy" Kelsey, built and operated a restaurant, Highlands Inn, at Trout Lake.
Following the birth of daughter Elaine, Joe and Vicki moved to the Seattle area, where Joe became a television technician, Vicki attended nursing school, and a son, William, was born. The family's final move was back to Joe's beloved Columbia River Gorge to settle in Hood River in 1980, where Joe had a television repair business and Vicki worked as a nurse at Hood River Memorial Hospital.
Back in the Gorge, Joe dedicated himself to his family, his love of the outdoors, and his duties to his community. Camping and hiking were his favorite pastimes, and his children fondly remember many trips along the trails together. Outdoor photography was also a lifelong passion for Joe, and he was a member of the Gorge Photography Club for many years. He was a longtime Hood River Swim Team board member, assisted with Boy Scout and Girl Scout camping trips, and was a member of the Lions.
Joe inherited a profound commitment to conservation and preservation of native landscapes from his grandfather and father, and was a member of numerous conservation organizations. He was a founding member of the Klickitat Trail Conservancy, for which he worked for many years.
After retiring, Joe worked part-time as a substitute teacher at schools throughout the region. He joined the Foggy Ridge Hikers and spent many happy days in retirement hiking the hills around Hood River and revisiting his favorite places in the Gorge, both solo and with friends. In his later years, Joe traveled with Vicki to Scout Jamborees in England and Finland, and also spent time in New Zealand, Madagascar, and South Africa.
Joe is survived by his wife of 49 years, Vicki; daughter Elaine and granddaughter Linnaea, of Albany, Ore.; son William (Navanjali) and grandson Arjun Joseph, of Elkton, Md.; brother Seth "Sandy" Kelsey (Ligi), of Issaquah, Wash.; and numerous nieces and nephews.
Joe was preceded in death by his parents.
Memorial service with military honors will be held at St. Mark's Episcopal Church, 400 11th St., Hood River, Sunday, Aug. 23, at 2 p.m., with reception to follow in the church parish hall. A public viewing and time for friends to greet with family is planned for 3-7 p.m. Thursday, Aug. 20, at Anderson's Tribute Center (Funerals • Receptions • Cremations), 1401 Belmont Ave., Hood River, OR 97031.
Remembrances may be made to the Klickitat Trail Conservancy, P.O. Box 512, Lyle, WA 98635 in Joe's name.
Please visit andersonstributecenter.com to leave a note of condolence for family.

Condolences are being received online.