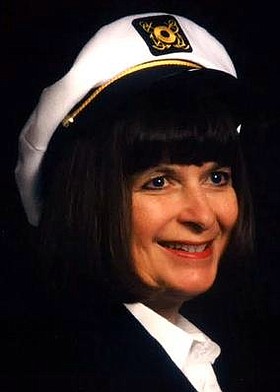 Sheila L. Reed
June 30, 1947 - August 20, 2015
Sheila L. Reed was born June 30, 1947, the third child of Richard and Patricia Steager of Odell, Ore. She graduated from Wy'east High School and moved to Salem to attend business school. Over the years she accumulated many courses at various colleges and universities in the region.
She worked at State Farm, Tallman Pianos, and Ticor Title. She met and married Aaron Reed. A few years after their divorce she and Denny Moore met while she was employed at the Oregon Department of Revenue. Her employment career took her to the Department of Employment where she applied for a one week "fill-in" job in the governor's office. She was appointed the governor's ombudsman for Corrections and seven other public safety agencies. She remained in that capacity for 16 years as part of three administrations and retired in 2003.
The picture was of Sheila as commodore of Salem Yacht and Boating Club. She also served for many years on the board of the Eola Investment Group.
Sheila and Denny got engaged in 2008. They had a very robust lifestyle: summering at their RiverRoost on the Willamette and wintering in their condo in Mazatlan, Mexico. Making friends and socializing came easily for Sheila. She has variously been referred to as bright, dynamic, colorful, and perhaps a bit stubborn. Sheila had a disarming smile and an uncanny ability to make people laugh. She had a sharp wit and could keep up with the best. She read the paper every day and watched the news religiously.
Sheila passed away Aug. 20, 2015. She is survived by Denny and his family, her sister Coleen McNeil of Newport, brother Paul Steager of Welches, and, of course, her cat, Murphy.
A Celebration of Life is planned for 3 p.m. on Saturday, Sept. 5, at the Keizer Elks Club. Bring your stories about this delightful person and share them with her many colleagues, neighbors, and other buddies. In respect for Sheila's love of cats, please make any donations to the Willamette Valley Humane Society. You can contact Denny at riveratz@hotmail.com.
Please visit http://bit.ly/1KfZOVL to sign a guestbook.