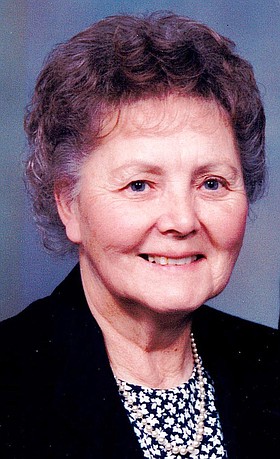 Doris Ellen Cotner
January 28, 1926 - December 1, 2015
Doris Ellen Cotner, 89, of Oak Harbor, Wash., formerly of McMinnville and Hood River, Ore., passed away Tuesday, Dec. 1, 2015, at Regency on Whidbey Harbor Care.
Doris was born in Vancouver, Wash., on Jan. 28, 1926, to Roy and Tressa (Gibbs) Edwards, joining an older sister, Lela. At an early age, she moved with her family to Seattle, Wash., where they resided for a time in the Mount Baker district, overlooking Lake Washington. During her sophomore year in high school, the family moved to Hood River, Ore., where her father purchased the Anderson Funeral Home.
Doris graduated from Hood River High School in 1944 and attended Northwest Nazarene College in Nampa, Idaho, for several years. It was at NNC in the spring of 1947 that she met Raymond E. Cotner who had recently returned from service as a Navy corpsman in World War II.
On Sept. 16, 1947, Doris and Ray were married in the Hood River Church of the Nazarene. In 1951, they moved to Richland where Ray worked for Hanford Atomic Project. Then in 1955, they moved back to Hood River where Ray and Doris joined the family business as co-owners with her parents and sister of the Anderson Funeral Home. Doris became a licensed funeral director in the State of Oregon in the mid-1960s.
After a long career of service to the community, the Cotners sold the funeral home and retired in 1982. In 1994, they moved to Yamhill County, Ore., and to McMinnville, Ore., in 1997. After Ray passed away in 2007, Doris remained in McMinnville, but eventually moved to Regency on Whidbey in Oak Harbor in September 2010 in order to be closer to her daughter, Becky, son-in-law Dave, and granddaughter, Sarah. She was a lifelong member of the Church of the Nazarene, but after she moved to Oak Harbor she attended Whidbey Presbyterian Church where her son-in-law was pastor.
Doris enjoyed reading, singing hymns, cooking (especially baking delicious apple pies), writing and journaling. She also enjoyed joining Ray and several other couples on hunting trips in the Wallowa Mountains of Eastern Oregon. During their retirement years, she and Ray loved traveling. They made multiple trips to Australia as well as visiting New Zealand, Hong Kong, Taiwan, Tahiti, Fiji, Italy, Africa and Alaska. They also enjoyed their RV and often spent winters in Arizona.
Doris' life revolved around her family, church and business. She taught kindergarten Sunday school classes for many years at the Church of the Nazarene in Hood River and was always willing to serve others in any way she could.
Doris is survived by two daughters, Becky Templin (David) of Oak Harbor, and Cheryl Andrews (Bob) of Sydney, NSW, Australia; and two sons, Bob Cotner (Sharon), of Parker, Colo., and Ray Cotner Jr. (Sheli), of Portland, Ore.; 10 grandchildren; 10 great-grandchildren, and numerous other relatives.
In addition to her husband, Ray, she was preceded in death by her parents and her sister, Lela Hudson.
Doris will be remembered for her radiant smile, kindness and genuine concern for others. She loved her husband, her children and their spouses, her grandchildren and great-grandchildren with a boundless love. She had the gift of hospitality and welcomed scores of people into her home to share a meal and the warmth of friendship. But, most of all, she was a faithful disciple of Jesus Christ, always seeking to follow Him and to show compassion to everyone who crossed her path.
A memorial service will be held at Whidbey Presbyterian Church on Saturday, Dec. 19, 2015, at 2 p.m., with Pastor Jon Draskovic officiating. In addition, a graveside service will be held in McMinnville, Ore., in June. Memorials are suggested to the Whidbey Presbyterian Church Memorial Fund, 1148 S.E. 8th Ave, Oak Harbor, WA 98277. Family and friends are encouraged to share memories and condolences at whidbeymemorial.com.