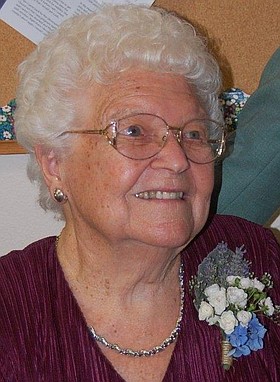 Gladys Ruth Grammer
September 16, 1921 - November 25, 2015
Gladys Ruth Steveson Grammer passed at the home of her daughter Tania and husband Mike Tyrrell in Parkdale, Ore., on Wednesday, Nov. 25, 2015, in the comfort and love of her family. Her short-term cancer diagnosis enabled the family to gather to say goodbye.
She was born in her parents' farmhouse near Marshalltown, Iowa, to Jay and Alvina Steveson on Sept. 16, 1921. She was one of eight children, of which her brother Orville Steveson survives her.
She went to a one-room school house where her older sister was the teacher and later she taught there as well after completing Teacher's College. She continued to teach in Oregon.
Married to John Elvin Grammer (1941) in Marshalltown Iowa, she traveled to Florida, Texas and South Carolina as he served in the Army Air Force as a pilot and an instructor. Their first children, Judith (1943) and Tania (1944) were born then. They returned to Iowa where Elvin worked for Maytag and Fisher Governor and Gladys had Donna (1947) and Robert (1949).
Selling the small airplane that Elvin refitted, they purchased a truck and moved to Portland, Ore., where Gladys worked for Rhodes, volunteered at Rockwood Grade School, taught 4-H and had her last child, Kathy (1952). She and Elvin were active in the Christian Church community, promoted and enjoyed square dancing, had family camping trips to what later become Rooster Rock State Park and added to their stores with fishing and hunting. Gladys helped form a pinochle club that is still going to date.
Oregon State University Agriculture department employed Gladys for many years. Her love of music came through volunteering with refreshments for Jam bands that played in parks and community centers in both Florida and Oregon.
She and her husband, John, renovated 15 rental homes in Albany and developed and managed Haystack Resort in Culver Oregon on weekends. They purchased a floating home near Reedsport for vacation fun (and work).
Gladys was always known for her outreach to neighbors and friends. Her open kitchen fed many visitors and her love of gardening and canning and sharing are still with us. She enjoyed her Lodi applesauce, dried fruit, and canned plums. She and Elvin worked with the Linn County Gleaners to benefit others.
Gladys is survived by her five children and their spouses, Pete and Judy Janowitz, of Beaverton, Mike and Tania Tyrrell, of Parkdale, Dennis and Donna Ashenfelter, of Albany, Bob and Mary Grammer, of Coeur D'Alene, and Tim and Kathy Tremper, of Port Orchard; 16 grandchildren, 17 great-grandchildren and six great-great-grandchildren, with two more expected shortly.
Her service of music and memories will be held at the Crabtree Christian Church in Crabtree, Ore., on Dec. 12 at 10 a.m., with lunch following at the home of Dennis and Donna Ashenfelter in Albany, Ore. A private grave site interment will be at Twin Oaks Gardens in Albany.
Memorial contributions are appreciated in lieu of flowers. Suggestions are to the Disabled Veterans of America, American Heart Association or Samaritan's Purse Christmas Project.

Condolences are being received online.