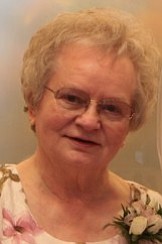 Pauline May Maurer
February 24, 1929 - November 30, 2015
Pauline May Maurer slipped into the spirit world on Nov. 30, 2015, from complications related to pneumonia. Pauline had spent the preceding weeks with her close family by her side.
Pauline was born at home to Benjamin Henry and Kathrine (Littke) McLain on Feb. 24, 1929, in Fargo, N.D. Her mother passed away when she was very young, and as a result was raised by her grandmother and aunt.
She traveled much throughout her life. She lived in many parts of North Dakota, Michigan, and eventually settled in Oregon. Her uncharted trek to Oregon entailed getting on a bus, with $6 in her pocket, and a peanut butter and jelly sandwich in tow. Once she arrived in Hood River she became very familiar with the city as she walked everywhere she went. She was proud to report that she was able to walk from the Heights to downtown in a brief 15 minutes.
Pauline was known for her amazing ability to care for those around her. Professionally she spent her life as a caregiver of people and animals alike. In such capacity she met her adopted family. The family of John B. (Kayla H) Johnson first met her in 1983 as she was called on to watch their animals, and they loved her ever since. She reflected that this was her favorite memory: "The day I got (found) my family." She was often found serving her family, generously giving to them, and spoiling her great-grandchildren, particularly with cookies, candy, and "TikToks" (Tic Tacs).
Pauline was always a giver, had incredible faith, and relied on her hope of dreams to come true! She was admired by those around her for her willingness to put others first, accomplish much good despite hardships, serve others, and to selflessly give of her time and possessions. Her interesting, unique, and resolute personality made her one of a kind!
She also had a love for her Heavenly Father and Jesus the Christ, and was an active member of His church, The Church of Jesus Christ of Latter-Day Saints.
Pauline loved the colors blue and purple, helping others and being with loved ones, steak and baked potatoes, taking others to dinner, and spending birthdays and holidays with her family. She recently reported that her favorite holidays were Christmas and Easter, as they represent the birth and resurrection of Christ. Pauline also enjoyed the holidays because she "loved spending time with family."
Her parents, sister, and brother preceded her in death. Her legacy will carry on through her adopted grandchildren and great-grandchildren: Kalynn (Zachary) Johnson, Orem Utah, Karalyn (Felipe) Castañeda, Hood River, Jennifer (Michael) Adkins, Hood River. In addition, her great-grandchildren: Janessa, Cristofer, Diego, and Dylan Castañeda, Hunter and Kayla Adkins, Callie, Alton, and Aaron Johnson.
Services to honor and celebrate the life of Pauline May Maurer are planned for 4 p.m. Friday, Dec. 4, at The Church of Jesus Christ of Latter-Day Saints, 18th and May streets, Hood River; viewing will precede the service at the church at 3 p.m.
Arrangements are under the direction of Anderson's Tribute Center (Funerals • Receptions • Cremations), 1401 Belmont Ave., Hood River, OR 97031; 541-386-1000. Please visit andersonstributecenter.com to leave a note of condolence for the family.

Condolences are being received online.