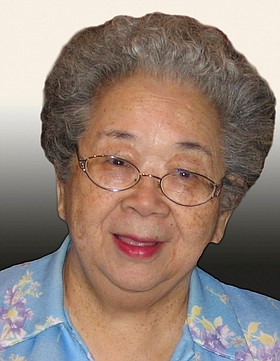 Mary Toda Imai
June 1, 1925 - November 28, 2015
Mary Toda Imai, 90, died in Hood River, Ore., on Saturday, Nov. 28, 2015. She was born June 1, 1925, in The Dalles, Ore.
Mary grew up in The Dalles and attended The Dalles High School until World War II when her family was evacuated and sent to the Pinedale Assembly Center in California. They were relocated to Japanese internment camps at Tule Lake in California and again to Minidoka in Idaho. After graduation in 1943 from Tri-State High School at Tule Lake, her twin sister Marie headed to Clinton, Iowa, for nursing school and six months later, Mary followed to also complete a nursing degree through the U.S. Cadet Nurse Corps and Jane Lamb Memorial Hospital. Shortly after the war ended she returned home to work as an RN at The Dalles Hospital.
Mary was married in The Dalles to Shige Imai in 1949, which pleased both their families as the Todas and the Imais had been longtime friends before emigrating from Japan. After moving to Hood River, her career path eventually led her to work as a special duty RN at Skyline Hospital in White Salmon, Wash., and the Hood River Memorial Hospital in Hood River, Ore. Nursing was a profession Mary was very proud to be a part of.
In December of 1957, Mary and Shige welcomed the adoption of their daughter. Flying in a snow storm to Denver, Colo., to meet their 18-month-old daughter, they returned home to raise her in the beautiful Hood River Valley.
Over the years, in addition to Mary's professional career, she volunteered her time to the Red Cross blood drives, county election board and the American Legion Auxiliary. She helped many youngsters get a good start in life by serving as a Brownie leader and then as a den mother for the Cub Scouts in the community of Dee Flat. She was a member of the Odell Methodist Church and the JACL. In later years she thoroughly enjoyed her involvement and all the close friends she made with her Rebekah Sisters at the Hazel Rebekah Lodge in Odell. Mary served as Noble Grand and was proud of her involvement and opportunity to serve her community.
Even after moving to Hawks Ridge Assisted Living, she continued to give of herself by embroidering decorative squares which were sewn into beautiful quilts by her Rebekah Sisters and auctioned to help raise money for those in need. Mary was known for her handicrafts and the beautiful creations which she shared with many family and friends. One of her most favorite things was the connection she made with her animal companions. She was as "smart as a whip" and an avid reader. She enjoyed word puzzles and speaking Spanish. She taught herself how to play the piano and she also enjoyed walking with her dogs at night while star gazing.
Mary's laugh was infectious and although diminutive in stature, she can be remembered as a firecracker with a quick wit, friendly personality and a welcoming smile. She will be deeply missed by her husband of 66 years, Shige Imai, of Hood River, and her daughter, Sheri Imai-Swiggart and son-in-law, Brad Swiggart of Portland, Ore., and by the many friends she made along the path of her life journey.
Mary was preceded in death by her parents, Choshiro and Kumano (Iwagami) Toda; sisters, Tazuko Toda, Suzuye Ogawa, twin sister, Marie Akita and Lena Hoffman; brothers, Frank Toda, Harry Toda and Tom Toda; nieces Shirlee Ann Saxton, Julianne Beliel and Arlene Schlosser; and nephews Terry Toda and Dale Imai. She is survived by many remarkable nieces and nephews and great-nieces and -nephews as well.
Memorials in Mary's name are encouraged and should be directed to Providence Hospice of the Gorge in Hood River. A special word of appreciation goes out to Dr. Maria McCormick and the staff of Hawks Ridge Assisted Living who took such good care of her over the years.
A private visitation and vault interment is planned and a Celebration of Mary's Life will be set at a later date to accommodate for safe winter travel. Plans are under the direction of Anderson's Tribute Center, 1401 Belmont Ave., Hood River, OR 97031; 541-386-1000. Please visit andersonstributecenter.com for more information or to leave a note of condolence for the family.

Condolences are being received online.