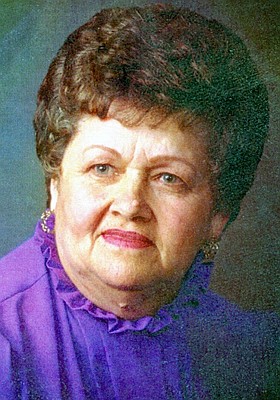 Westine L. Henegar
April 2, 1924 - December 5, 2015
Westine L. Henegar, 91, passed away in Hood River, Ore., on Dec. 5, 2015. She was born to Elizabeth (Frost) and Tasker W. Tosh in Seneca, Mo., on April 2, 1924. She was raised in Oklahoma and at the age of 18 moved to White Salmon, Wash.
Westine worked as a clerk at Town & Country Market until retiring. She later worked for Jantzen Sportswear in Hood River where she worked as a supervisor until retiring once more.
She attended the Christian Assembly, now New Beginnings, when she was able. She enjoyed crocheting, sewing, cooking, and family time when she was not at work.
Westine is survived by one daughter; six grandchildren and many great-grandchildren.
She was preceded in death by daughters Percella (Perky) Collins, Meleta Redden and Patsy Cochran, granddaughter Lisa and great-granddaughter Chlöe.
A funeral service will be held at 10 a.m. on Monday, Dec. 14, at Gardner Funeral Home in White Salmon, Wash. Condolences may be sent to the family at gardnerfh.com.

Condolences are being received online.