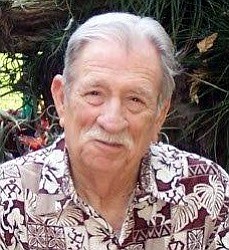 Arthur Nelson Knapp
November 15, 1930 - December 5, 2015
Arthur Nelson Knapp, 85, of Otis, Ore., passed away peacefully at home in the loving arms of his family on Dec. 5, 2015. He was born on Nov. 15, 1930, in Phoenix, Ariz., to Jake Knapp and Charlotte Nelson Knapp.
Growing up, Art raised 4-H animals, worked biking 30 miles a day delivering the Arizona Republic newspaper and caddying at the Biltmore Hotel. He joined the Navy at age 17, serving in the Korean War on the USS Missouri battleship and in the Vietnam War on the USS Repose hospital ship. He retired as chief petty officer after 21 years in 1969.
In 1958 he married Audrey Dang of Hawaii and they had three children: Sharon, Charlotte and Jake.
Art's life work was to improve the lives of the developmentally disabled through vocational rehabilitation, first in the San Francisco Bay Area, then in Hood River, Ore. In 1995 he married Suzanne Milton and together they traveled the United States and the world, finally settling in Otis, Ore.
Art was an avid fisherman and enjoyed sailing, motorcycle riding, woodworking, and spending time with friends and family. He will be missed for his kindness, gentle spirit and sense of humor.
Art was predeceased by his son Jake in 2005. He is survived by his wife, Suzanne; children Sharon (Bill) Queen, of Terrebonne, Ore., Charlotte (Al) Gosiak, of The Dalles, Ore. Aaron (Shannon) Milton, of Sherwood, Ore., and Tracy (Steven) Berkey, of Dundee, Ore.; grandchildren Sarah (Kelly) Queen-Foster, Jason (Andrea) Queen, Aaron Gosiak, Alec Gosiak, Austin, Madison and McKenzie Milton, and Isaac Berkey; and great-granddaughter Alivia Queen.
A celebration of life will be held Saturday, Dec. 19, at 11 a.m. at Surftides Lincoln City in the Herman Melville room, 2945 N.W. Jetty Ave., Lincoln City, Ore.
In lieu of flowers, the family asks that donations be made in his name to the Wounded Warrior Project, Make a Wish Foundation, or Samaritan North Lincoln Home Health and Hospice.