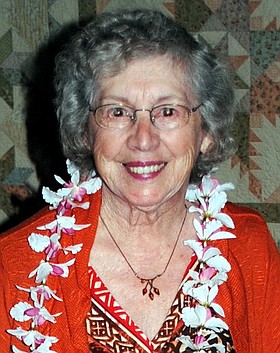 Geraldine "Geri" Marie Hobson
July 7, 1923 - December 12, 2015
Geraldine "Geri" Marie Hobson died on Dec. 12, 2015, from complications from an ongoing illness.
Geri was a world class, one-of-a-kind mother, grandmother, aunt, sister, friend and person. We were truly blessed to have had her in our lives. We will miss her.
Geri was born to George and Eileen (Driscoll) Wilson in Minneapolis, Minn., on July 7, 1923. She often spoke fondly of her memories of growing up with her beautiful, large family. She graduated from Stevenson High School, Stevenson, Wash. After graduation, she moved to Portland, Ore., to work with Standard Insurance Company. She later married John Courtney Maurer after his return from serving with the U.S. Navy in the Pacific Theater during World War II.
Their daughter, Nancy, was born to them a few years later in Hood River, Ore., followed by a son, Mark, and a daughter, Marsha (twins) born in Redding, Calif. The family later settled in North Bend, Ore., and lived there for many years with the children graduating from North Bend High School.
Geri worked for many years for the North Bend School District and Southwestern Oregon Community College as a swimming instructor. She enjoyed her career and fondly remembered students many years after she'd taught them to swim.
Geri and John later divorced. And many years later, Geri found true love and married Don Hobson of Hood River, Ore., where they lived happily for many years until Don preceded her in death. Don and Geri were generous, peace-loving and kind people who were a good fit together. The neighborhood animals loved them both and spent many happy hours among their rosebushes and fruit trees. They enjoyed huckleberry picking and being out in nature. Geri and Don loved traveling throughout Oregon, Washington, Nevada and Arizona. They had many happy years together before Don passed away.
A few years after Don's death, Geri found comfort in her close friendship with Don Leonard, with whom she had attended Stevenson High School. Having both lost their spouses, they helped each other navigate their grief after reconnecting as friends. They were dear friends until Don preceded her in death.
She was very close to her sisters Mary Lou and Dorothy. The three together spent many fun-filled hours similar to the "Golden Girls" and had many adventures together and lots of telephone calls.
Geri lived, loved, worked, played and touched the lives of many folks in North Bend and Hood River over the years. She seemed to know everyone. She loved her family and friends. She was compassionate, generous and fun-loving. Geri enjoyed indulging in the sweetness of life. She loved photography, scrapbooking, and gathering with friends and family for lunches out. In particular, she remained very close to her neighbors and former neighbors who remained by her side when she became ill. Geri loved writing letters and keeping in touch with her family, friends and grandchildren. We joked that she helped support the postal service.
Geri is survived by her daughter, Nancy Kloak, of Newport, Ore.; son Mark Maurer (Jani Hawkins) of Bingen, Wash.; and Marsha Hettman (Gary) of Toledo, Ore. Included in her immediate family are two sisters: Mary Lou Garwood, White Salmon, Wash., and Dorothy Ann Capps, Milwaukie, Ore.; and three grandchildren: John Hart (Sanne Flege) of Copenhagen, Denmark, Casey Hettman (Josh Waldow), Portland, Ore., and Michael Maurer Toney, Coos Bay, Ore.; and four great-grandchildren: Declan John Toney, Ida Flege Hart, Lucas Robert Hawkins and Ella Louise Hawkins.
Services are not planned at this time. In lieu of flowers, please consider donating to one of her favorite charities: Home at Last Humane Society, 200 River Road, The Dalles, OR 97058.
Arrangements are under the direction of Anderson's Tribute Center (Funerals • Receptions • Cremations), 1401 Belmont Ave., Hood River, OR 97031; 541-386-1000. Please visit andersonstributecenter.com to leave a note of condolence for the family.

Condolences are being received online.