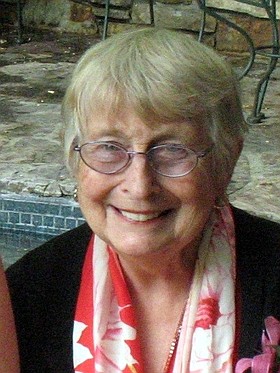 Meg Euwer
October 29, 1935 - December 12, 2015
Meg Euwer, 80, of Parkdale, Ore., died peacefully in her home, surrounded by family on Dec. 12, 2015. Meg (Margaret) Maren Schmidt Euwer was born on Oct. 29, 1935, in Oakland, Calif., to Marion (Maren) Rohne Schmidt and Herman Schmidt. She grew up in San Leandro, Calif., surrounded by many languages, in a home with art and music. She was a pianist and a lover of literature from a young age.
Meg attended both the University of California at Berkeley and San Jose State University, and she graduated from San Jose State in 1956 with a B.A. in English.
On Sept. 2, 1956, she married Gene Euwer and they moved to Parkdale. As Meg and Gene reared their family, Meg shared her many interests and talents with her children. These included gardening, literature, downhill and cross-country skiing, teaching piano, swimming, cooking, writing, hiking, backpacking, wildflower identifying, bird-watching, traveling, studying Spanish, and listening to opera. She fostered and supported her daughters' and grandchildren's study and enjoyment of music throughout her life, attending and loving all of their performances.
Known for her articulate language, witty sense of humor, and eloquent vocabulary, Meg was an avid reader of fiction and nonfiction, and her friends and family remember many discussions with her about politics, science and literature. Meg's cooking was legendary and creative. She grew, harvested, canned and froze most of her own vegetables, and she preserved dozens of glistening jars of jellies and jams each year to share with friends and family. She attended graduate school at PSU, and she was a lifelong learner and thinker.
Meg was active for many years in the PEO, the AAUW, and outdoor activities with the Crag Rats, and she sang in the choir of St. Mark's Episcopal Church. She supported her husband in their orchard business, managing the bookkeeping and other responsibilities. For several years, she was the Parkdale librarian, and she also worked for a time as a classroom aide at Wy'east.
Meg had a strong social conscience and a clear moral compass. She believed fervently in equal opportunities for everyone, regardless of race, social circumstances, sexual orientation or beliefs. She lived by these principles, looking for ways to combat discrimination and to be kind to others. Meg was a teacher in and an early supporter of Parkdale's Head Start program. She served on the Hood River County Library Board and the board of La Familia Sana, as well as on the statewide board for services for the developmentally disabled, such as the Sheltered Workshop. For these and other community contributions, she was named a Soroptimist Woman of Distinction in 1998.
In later years, Meg loved to take her grandchildren on nature walks, read to them, and organize cooking and art projects with them. They all have fond memories of these adventures and times with her. She took great pride in her children's and her grandchildren's accomplishments and life events, and she was a loyal and loving supporter of all of them.
Meg is survived by her loving family: daughter, Nathalie Euwer Croft (Joe), and their children Brendan and Celine Croft; daughter, Jennifer Euwer, and her two sons Henry and Ian Hunt and their father, Steve Hunt; daughter, Maren Euwer, her two children Noelani and Donald Euwer-Cherrington, her cousins Tracy Ross and David Ross and families, her sister-in-law, Virginia Euwer Wolff, her nephew Anthony Wolff, niece Juliet Wolff and their families.
She is preceded in death by her husband, Gene Euwer, who died in 2014.
Meg's family members wish to express their appreciation and fond affection for the skilled, compassionate, and kind caregivers who took care of Meg as her health declined.
Contributions in Meg's honor may be made to the Hood River County Library Foundation (http://hoodriverlibrary.org/foundation/donate/).
A Celebration of Meg's life will be held at 2 p.m. Friday, Jan. 29, at Riverside Community Church, 317 State St., Hood River.
Arrangements are under the direction of Anderson's Tribute Center (Funerals • Receptions • Cremations), 1401 Belmont Ave., Hood River, OR 97031; 541-386-1000. Please visit andersonstributecenter.com to leave a note of condolence for the family.

Condolences are being received online.