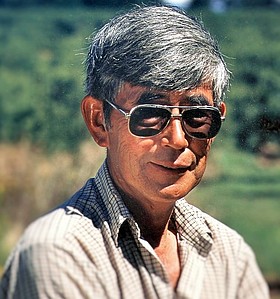 R. "Tom" Thomas Yasui
December 25, 1944 - December 14, 2015
Mikie (Kageyama) and Ray T. Yasui received a special Christmas gift in 1944. A 10-pound son they named R. Thomas "Tom" was born on Christmas Day. Tom was born in Ontario, Ore., because his family had been relocated during World War II. In 1945, the family was able to return to their home in Hood River, Ore.
Tom and his siblings, Joan and Philip "Flip" were raised on Willow Flat. Cousins Eric and Dag joined the family after the untimely passing of their parents.
Tom attended Central Vale School, Mid Valley Junior High School, and Wy'east High School. He continued his education at Linfield College, and transferred to Oregon State University, where he graduated in 1967.
After graduating, he returned to Hood River. Together, Tom and Flip became the third generation to own and operate the family orchard. Tom remained actively engaged in running the farm until chronic obstructive pulmonary disease (COPD) forced his retirement.
On Dec. 14, 2015, cancer ended his life here on Earth. He passed quietly from the arms of his wife and son into the arms of God, and his eternal home in Heaven.
Tom enjoyed an active life and the people he encountered in it. His mother used to say, "He didn't know a stranger." He also enjoyed helping others, which included a lifetime of service to his community.
Tom served as class president in his freshman and junior years of high school; ASB president his senior year; terms as president of the Mid-Columbia Japanese American Citizens League; member of the Hood River County Audit Board, and Odell Fire Department Board; and was on the board of directors of Hood River County Bank (which later became Hood River Key Bank), and Oregon/Idaho AAA.
On Nov. 11, 1981, Tom and Leslie Sakamoto were married in Reno, Nev. And in 1989, they were blessed with a son, Matthew Thomas, whom Tom referred to as the joy of his life.
In addition to his wife and son, survivors include: sister Joan Emerson; brother and sister-in-law Flip and Maija Yasui; brother-in-law Elliot Sakamoto; niece Kim Yasui and husband, Jason Wilkins; nephews Chris Emerson and wife, Kelly, Corey Yasui and wife Cara, Niko Yasui and wife Kathy, and Hunter Sakamoto. Tom is also survived by Dag Yasui, Elaine Betts, and numerous other cousins; and seven grandnieces and two grandnephews.
A service will be held at the Hood River Alliance Church, 2650 W. Montello, Hood River, later in the week. (Please call Anderson's Tribute Center at 541-386-1000 for further details.) It will be followed by a private interment.
In lieu of flowers, contributions are suggested to: Odell Fire Dept. (3431 Odell Hwy., Odell, OR 97044) or Heart of Hospice (2621 Wasco St., Hood River, OR 97031) and would be appreciated.
Many thanks to all whose help allowed Tom to remain at home the final weeks of his life. The family would like to acknowledge and thank Cathie Ward, Galina Oleynik, Lisa Pacheco, and Sandie and Kenny Fischer for their help and support.
Arrangements are under the direction of Anderson's Tribute Center (Funerals • Receptions • Cremations), 1401 Belmont Ave., Hood River, OR 97031; 541-386-1000. Please visit andersonstributecenter.com to leave a note of condolence for the family.

Condolences are being received online.