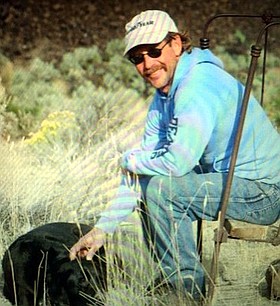 Ronald "Ron" Dewey Thompson
unknown - December 16, 2015
Ronald Dewey Thompson, 63, from Moro, Ore., passed away on Dec. 16, 2015, surrounded with the love of his family and friends. Ron was a vibrant and creative force. The truly unforgettable Ron could – and would – strike up an easy conversation with anybody, making friends wherever he roamed.
And roamed he did. Ron was a world traveler whose gift of photography allowed him to communicate his perspective, a gift that will live on for years to come. Always connected to the earth, Ron worked his family farm and famously witched wells for enjoyment.
Ron was interested and skilled in multiple areas and had a broad base of knowledge. An inquisitive mind, Ron loved to learn about live and people. He was a free spirit who always had an open mind. An avid reader, a mountain climber, adventurer, artist, hunter writer and poet, Ron was a true Renaissance man. Ron, we will miss your smile and loving spirit.
Ron is survived by his wife, Sally, who was his copilot and best friend who is proud to have shared the last seven years of his life; two children, Andy, Aaron and his wife, Kathleen, and his grandson, Simon, whom he adored; his mother, Sharon Chard; sisters Karen Umemoto and Jan Mellinger; and of course, the multitude of friends he met on his journey.
There will be a celebration of Ron's life on Jan. 16 at the Grass Valley Pavilion. For more information email sarbibbs87@gmail.com. Loving Ron is all that is required to attend.