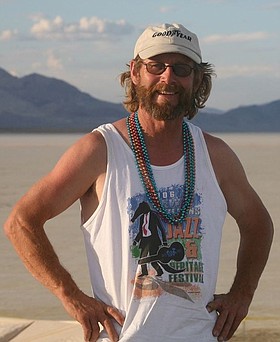 Ronald Dewey Thompson
November 20, 1952 - December 16, 2015
Ronald Dewey Thompson was born Nov. 20, 1952, in The Dalles, Ore., the son of Sharon Chard and Donald Thompson and brother of Karen Umemoto, Susan Thompson, and Janice Mellinger.
Ron was a free spirit at an early age and loved sports. While never the biggest athlete on the field, Ron's big heart and scrappiness made up for his lack in size. He played football, basketball, and baseball during his high school years. He graduated from Sherman County High School in 1971 and then studied at Oregon State University and at the University of Oregon.
After his studies, Ron worked the family wheat farm outside of Moro, Ore., which the Thompson family has been tending for over 100 years. He was vital to the prosperity of the farm and was instrumental in adding the cherry orchard. He had two sons: Andrew Thompson, born in 1987, and A.J. Thompson, in 1988. Ron became a proud grandpa in 2014 when A.J.'s son Simon Thompson was born. He treasured his grandson and would let everyone know it.
Ron was an extremely creative and special human being. Some hobbies of his were photography, poetry, painting, hunting, fishing, witching wells, telling jokes, and stacking rocks. If you saw a rock stack in Sherman County or the Gorge over the last 30 years, chances are it was one of Ron's. He climbed multiple mountains in the Cascade Range and traveled to Europe and Central America multiple times.
His thirst for life was infectious. Even though he was diagnosed with brain cancer in 2014, it never dampened his spirits. He was very thankful for his family and friends. In his words, he had "the greatest family and friends anyone could ever ask for." He always stressed that it was important for everyone to be themselves and they didn't have to be "normal." Ron was far from "normal" and that's what made him Ron.
Ron peacefully passed away with his mother and two sons by his side on the morning of Dec. 16, 2015. He is survived by his mother, Sharon; his two sisters, Jan and Karen; his two sons, Andrew and A.J.; and his grandson, Simon.
Ron was preceded in death by his father, Don, and his sister Susie.
A graveside service will be held for Ron at Rose Hill Cemetery outside of Moro on Jan. 9 at 1 p.m. A celebration of life party will follow at the Wasco elementary school.
Charitable donations may be made to the Sherman County Historical Society or the Sherman High Athletic Foundation. Please contact A.J. Thompson at 541-215-0744 or aaronjohnthompson@gmail.com for additional information.