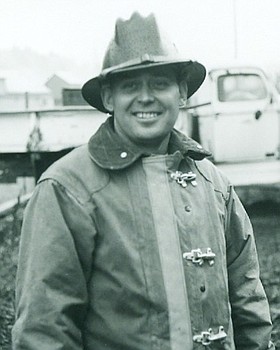 Eugene "Bud" Bliss Harvey
June 11, 1924 - December 19, 2015
Eugene Bliss (Bud) Harvey passed away Dec. 19, 2015, while in the arms of his beloved wife, Vada. Born on June 11, 1924, in Inavale, Neb., he was one of four children born to Guy and Martha Harvey.
Nicknamed "Bud" by his mother when he was a young boy, he was raised on a Nebraska farm along with his brother Jack and two sisters, Renee and Roberta. Growing up in an era where life was not easy, each family member's life was directly shaped by the effects of the Great Depression and the Dust Bowl of the 1930s.
A year after graduating from high school, 19-year-old Bud was drafted into the Army. His troop ship was en route to Okinawa when the war ended.
In 1947, Bud met Ruth Cline of Lebanon, Kansas, a vibrant registered nurse, and on July 7, 1948, they were married. Their first home was in Nebraska, where they operated the family farm and where their two daughters, Liane and Carla, were born. But after several bad years of farming, they decided in the summer of 1955 to move the family out west to Oregon, one of the most memorable places where Bud had visited while in the Army. They settled in Hood River, a small town located on the Columbia River, where they eventually had their third child, Dennis.
Bud had a special talent when it came to repairing appliances, and he worked for Ted Hackett Appliance for 11 years, where his peers nicknamed him "Homer Brown," after the dependable radio sitcom and comic book character. In 1966, Bud started his own business – E.B. Harvey Refrigeration – and in 1980, son Dennis returned to Hood River and joined him in the business. Bud continued working with Dennis until he retired in 2005.
After his first wife, Ruth, passed away in 2002 after 55 years of marriage, Bud met Vada Huot and remarried on Jan. 13, 2006.
Bud had an enduring sense of humor, a quick wit and a boundless sense of loyalty and commitment. He was a member of the American Legion, served as a board member of the Ice Fountain Water District, served for 25 years as a volunteer firefighter with the West Side Fire District and served an additional 18 years as a member of the district's board of directors.
Bud is survived by his wife, Vada; daughter Liane, of King City, Ore.; son Dennis (wife Julie, grandson Patrick), of Hood River; granddaughter Trista Starks, of Vancouver, Wash.; grandson Aaron Starks (wife Sarah), who serves in the U.S. Navy and is stationed in Guam; and two great-grandsons, Micha and Matthew.
Bud was preceded in death by his wife Ruth; sister Renee Gaskill; and daughter Carla Harvey.
Persons wishing to make a memorial contribution in Bud's name are asked to donate to the West Side Fire Department.
A memorial service will be held Jan. 9 at 2 p.m. at the West Side Fire Station at 4250 Barrett Drive, Hood River.
Arrangements are under the direction of Anderson's Tribute Center (Funerals • Receptions • Cremations), 1401 Belmont Ave., Hood River, OR 97031; 541-386-1000. Please visit andersonstributecenter.com to leave a note of condolence for the family.

Condolences are being received online.