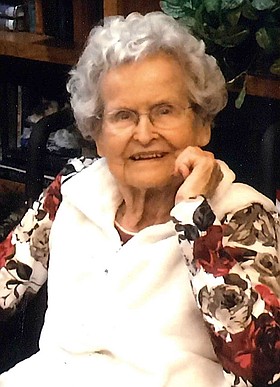 Erma Idella Bryson
January 17, 1924 - February 1, 2015
Erma Idella Bryson was born Jan. 17, 1924, in Weiser, Idaho, to Ernest and Flossie Attebery, who lived in Mann Creek, not far from Weiser. She graduated from Dayton High School in Washington and went on a road trip to the Grand Canyon. Upon her return to Dayton she found a job at the cannery in Dayton, and worked there until she met her future husband, Vernon Bryson. In 1949 Vernon proposed to Erma while flying his private plane down the Columbia River Gorge in route to introduce Erma to his parents in Portland, Ore. They were married in 1950.
Soon thereafter, Vernon went to work in Riverside, Calif. It was in Riverside where their first child, Joan, was born. Not long after that Vernon rejoined the U.S. Air Force and their second child, Bill, was born at March AFB in California. Erma and family traveled around the world for the next 24 years, setting up homes in Georgia, Hong Kong, and three times each in Japan and Moses Lake, Wash. Their third child, Dana, was born in 1959 in Hermiston while she was staying with her parents, just prior to their second move to Japan.
Vernon retired from the Air Force in 1970 and they found land and settled in the Hood River Valley, Ore., where they made their home for the next 40-plus years. Vernon started farming, with his small but well-run hay operation. Erma stayed busy around the house, maintaining a very large garden with the associated canning and food drying. While her husband was stationed in Japan, Erma took extensive training in flower arrangement and continued her love of flowers by being an active member of the Odell Garden Club.
Erma and Vernon were also both active members of the United Methodist Church in Odell, where Vernon volunteered many, many hours helping maintain the historic church structure and Erma participated in most church activities. Erma was also an avid quilter and met weekly with the Rather Bee Quilting group for many years.
Erma was preceded in death by her husband, Vernon, and her older sister, Nita, and older brother, Don.
She is survived by a large family that includes two brothers and two sisters; her daughter and son-in-law Joan and Michael Benedict; son and daughter-in-law Dana and Kathy Bryson; son and daughter-in-law Bill and Patty Bryson; and her grandchildren Ashley Dames and John Bryson and their spouses.
Erma passed away Feb. 1, 2015, at Providence Brookside Manor, amongst family and caring Brookside staff.
Donations in Erma's name can be made to either the Heart of Hospice or the United Methodist Church in Odell.
A family memorial service will be held in the spring at the Willamette National Veterans Cemetery in Portland.
Arrangements are under the direction of Anderson's Tribute Center (Funerals • Receptions • Cremations), 1401 Belmont Ave., Hood River, OR 97031; 541-386-1000. Please visit andersonstributecenter.com to leave a note of condolence for family.

Condolences are being received online.