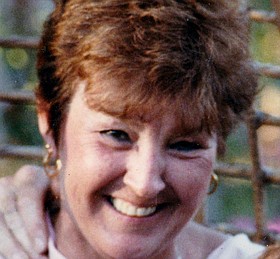 Diane Betz Winterholler
July 9, 1932 - January 16, 2015
Diane Betz Winterholler, 82, of Beaverton, Ore., passed away peacefully Friday, Jan. 16, 2015, at her home surrounded by those she loved. Diane Marie Taneyhill was born July 9, 1932, in San Pedro (Los Angeles), Calif., to Irvin Taneyhill and Gladys (Clewett) Taneyhill.
Diane graduated from Inglewood High School (Inglewood, Calif.) in June of 1951. On Dec. 1, 1951, Diane married Donald Betz and was blessed with two children, Daniel and Lori. Diane was a devoted wife and mother who loved spending time with family and friends, camping, water skiing and enjoying the outdoors. In 1969 Don and Diane move to Hood River, Ore., where they continued to raise their two children.
Diane later moved to Portland where she met and married Carl "Bob" Winterholler on Nov. 11, 1989. They made their home together in Beaverton.
They enjoyed a life of traveling the coast of California, Arizona, and outdoor activities on the beaches of Oregon and Washington along with several trips to Mexico.
While in Beaverton Diane had fun working estate sales, making candy for a local business and volunteer work at St. Vincent Hospital. There seemed to be almost nothing that she wouldn't try. Diane is remembered by all who knew her for her kindness, thoughtfulness, great smile and wonderful laugh. She will be greatly missed.
Diane is survived by her husband, Bob; her children Dan (Kary) Betz, of Hood River, and Lori (Marcia) Betz, of Estacada; Bob's children, Marti Winterholler, of Greece, Mitchell Winterholler, of Portland, and Morgan Winterholler, of Oregon City. She is also survived by her three grandchildren: Rachell (Chad) Lindley, Angela (Kevin) Holcomb, and Jonny (Mandy) Betz; and great-grandchildren: Alexa and Paige Lindley, Madison Fisher, Ryan Gray, Aksel Betz, and Rubi Holcomb. Diane is also survived by her twin sister, Donna Magee, and brother, John Taneyhill, and their children, all of California.
Remembrances may be made to the Palliative Care Program at Providence St. Vincent Foundation, 9205 S.W. Barnes Road, Portland, OR 97225 or online at providencefoundations.org/psvmc.
Memorial services will be held on Friday, March 6, 1 p.m. at the Willamette National Cemetery.