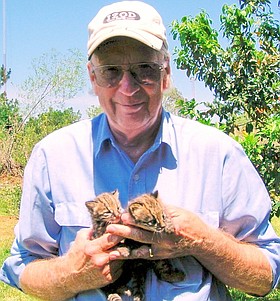 Robert Larson
October 9, 1932 - October 28, 2014
Robert Larson, 82, died on Oct. 28, 2014, while on vacation with his daughter, Stina, in Bergen, Norway. His family is deeply saddened by this unexpected loss, but are comforted knowing that he was doing what he loved in a part of the world that he cherished.
Robert was born on Oct. 9, 1932, in Spokane, Wash., to Victor and Katherine Larson, and was the eldest of four siblings. He attended Rogers High School in Spokane, and continued his education at Washington State University in Pullman, Wash., where he received his master's degree in pharmacology. He married Dawn Springer on Sept. 3, 1957, and they moved to Iowa, where he earned his Ph.D. in pharmacology at Iowa State University. After his residency at the National Institutes of Health in Washington, D.C., he moved to Oregon with his wife and eldest daughter, where he became a professor of pharmacology and toxicology at Oregon State University in Corvallis.
Robert had a deep appreciation for the outdoors and chose a home in the countryside of Philomath to raise his family. He was passionate about music and played the clarinet and saxophone very well. He was also interested in other cultures and loved to travel.
While at OSU he took two sabbaticals with his family to conduct research at the Karolinska Institutet in Sweden and the University of Tubingen in Germany. He and Dawn were also active in the Philomath High School American Field Service club and hosted students from Japan and Austria.
After retirement he and his wife moved to Hood River, Ore., and subsequently spent a year in China teaching pharmacology with the World Health Organization. Although his wife's death in 2002 was difficult, he stayed active and continued traveling the world. He took multiple trips with i-to-i International, traveling to South Africa, Australia, Argentina and Borneo where he volunteered with organizations rescuing animals and preserving their habitat. He enjoyed his work with i-to-i immensely and was proud to be one of the oldest volunteers -- known to some as the "78 year old Lion Man."
Robert also maintained strong ties with relatives and close friends in Sweden, and traveled there whenever possible. He loved the Columbia Gorge and remained active by hiking, and especially enjoyed taking anyone who visited on tours of the area -- sometimes in his convertible Camaro!
He was preceded in death by his wife, Dawn Larson, and his sister Ellen Brown.
He is survived by his two sisters, Ruth Larson and Irene Wesel; his daughter Laurel Medinger, her husband Julian Medinger and their children, Mikaila, Samantha and Evan; his daughter Stina Larson and her husband Donald Kiesling Jr.; and his son Eric Larson.
We invite friends and family to join in a celebration of his life at 2 p.m. on Saturday, Jan. 17, at the Banks Community United Methodist Church in Banks, Ore. Remembrances can be shared at http://healgrief.org/robert-larson-10282014/ or sent to robert.larson.remembrance@gmail.com. Memorial donations may be made to the Dawn Joy Larson Memorial Scholarship Fund (WSU, P.O. Box 1495, Spokane, WA 99210-1495) or a charity of your choice.