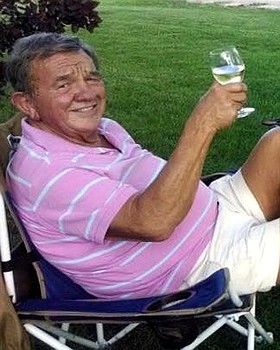 Richard "Dick" Thrun
November 20, 1941 - December 22, 2014
Richard Thrun, 73, passed away unexpectedly on Dec. 22, 2014, in the city he loved, Puerto Vallarta, Mexico.
Dick was born on Nov. 20, 1941, in Wauwatosa, Wis., to Elroy and Anita Thrun. He was a graduate of Horicon High and also held many athletic school records. Prior to joining the Army he attended the University of Wisconsin-Madison and played football for the Badgers and also the Berliner Bears Army team in Berlin, Germany. It was here he met his first wife, Erika Thrun. In 1963 they moved back to the U.S. with first child, DeAnna Hendricks.
Dick's career began as a local policeman. But his part-time job working for Modern Woodmen of America uncovered his true gift of helping others. Modern Woodmen was honored to have Dick move from representative to supervisor to agency manager. He enjoyed a career that spanned 30 years, winning numerous awards, recognitions and trips. The position of agency manager moved Dick and his family to central Minnesota.
In 1981 Dick met Mary Zack and a new blended family was created. Residences in Hastings and Prescott hold many fond memories. After Dick's early retirement, new adventures began. Although their permanent address was Hood River, Ore., full-time RV living took them on countless and memorable journeys. Loving warm weather in the winter they traveled to Hawaii for several years. However, Puerto Vallarta, Mexico, became his winter home for the past 25 years.
Dick was preceded in death by his son, Derek Thrun; parents Elroy and Anita Thrun; siblings Curt Thrun and Roxy Schraufnagel; and grandsons Brandon and Devon Lauwagie.
He is survived by his wife of 29 years, Mary Zack. Children and grandchildren include: DeAnna (Scott) Hendricks, Jenny, Alex and Katie Hendricks; Kirk (Sherie) Zack, Collete and Colson Zack; Dan (friend Pam Borst) Thrun, Katie Kuper and Tanner Thrun; Laura (Ross) Kropp, Samantha and Kasey Kropp; Katharine (Jesse) Riewe, Jake and Mason Lauwagie; Rich Thrun and beloved dog Lacy. Dick is also survived by siblings Sharon (Bob) Wieshoff, Elroy (Carolyn) Thrun and nieces and nephews, Tracy Thrun, Carrie Brooks, Tim Thrun, Renea Mueller, Mike and Corey Moede and countless family and friends.
A celebration of Dick's life will be held at a later date. Donations to your local food shelf/bank in his memory are preferred.