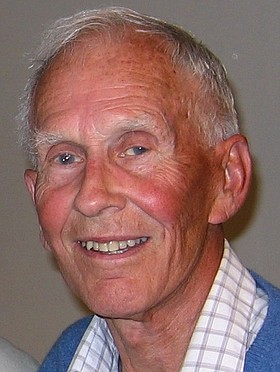 Sergius Ray Gaulke
August 2, 1922 - January 7, 2015
Sergius Ray Gaulke, 92, longtime Hood River resident and dentist, died Wednesday, Jan. 7, 2015, at the Oregon Health and Science University hospital in Portland. He was born Aug. 2, 1922, in Walla Walla, Wash., to Sergius Carroll Gaulke and Rita (Hambleton) Gaulke.
His early years were spent in Baker City and Coquille while following his father's career with Standard Oil. He graduated from Coquille High School in 1940, along with his wife-to-be, Jeanne Claterbos, whom he married in 1944 and spent the next 58 years with before Jeanne's passing in 2002. Ray shared the last 10 years of his life with his loving companion Dorothy Mellenthin.
Ray attended the University of Oregon for two years before entering North Pacific Dental College (now OHSU School of Dentistry) and graduating in 1945. Following graduation he served as a commissioned officer in the U.S. Navy Dental Corps stationed in Farragut, Idaho, and Bremerton, Wash., until the end of World War II. He then moved to Hood River in 1946 and entered into dental practice as an associate of Dr. Carey H. Jenkins. Shortly afterward he began solo practice for 35 years until his son, J. Scott Gaulke, joined him in 1982. During the Korean War, he had to put his private practice on hold for two years when he was recalled by the Navy, and then loaned to the Army who were short of dentists. He retired from the practice of dentistry in 1986.
Ray and Jeanne raised four sons who were the primary focus of their interest and activities that included boating, skiing, hunting, camping, hiking, travel, and photography. As a father and grandfather devoted to his family's love of sports, he attended hundreds of ball games and sporting events over the years, enthusiastically supporting his children, grandchildren, and their teams. From 1962 to 1974, Ray served as a Hood River Port Commissioner and was a strong supporter of the development of the Hood River waterfront that occurred during his tenure. For over 50 years he enjoyed summers with his family at their cabin at Wallowa Lake. Ray is best remembered by his friends for his selfless devotion to his family, his talent for creative problem solving, and his compassion and empathy for his patients.
Ray is survived by his sons and their families: Michael R. and Judith A. Mellenthin Gaulke of Atherton, Calif., Thomas G. and Sherry A. Gaulke of Albany, Ore., Dr. J. Scott and Sue Gaulke of Hood River, and Terry K. and Cheryl Hughes Gaulke of Tualatin, Ore. Also surviving are grandchildren Brent, Kelly, Lindsey, Lauren, Cameron, and Mitchell Gaulke; and great-grandchildren Gunnar and Logan Gaulke.
The family will observe private ceremonies of remembrance.