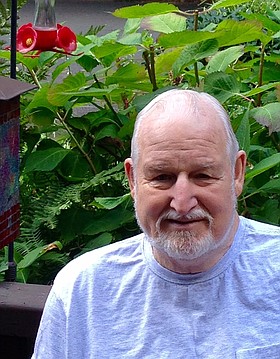 Daniel Kent Fellows
March 17, 1933 - January 8, 2015
Daniel Kent Fellows, 81, passed away Jan. 8, 2015, peacefully in his home in Vancouver, Wash. Daniel "Boonie" was born March 17, 1933, in State College, Pa., to Robert and E. Marie (Hunter) Fellows.
Daniel graduated from State College High School in 1951, and attended Penn State University in State College, Pa. He was always an avid Penn State supporter, and never missed watching a Nittany Lions football game.
Dan also served in the U.S. Army in the occupation forces in Germany in 1954-56 at Coleman Kaserne, in Gelnhausen.
Dan married the love of his life, Winona (Noni) Ellen Kersteter, in State College, Pa., on Sept. 9, 1956. They headed out West to Idaho in the early 1960s, where Dan joined the growing lumber industry with Boise Cascade Corporation, ultimately managing various lumber yards from Southern Idaho to southwest Washington. He finished his career in Beaverton, Ore., at BMC West, and retired in 1998.
Dan is survived by his children: Michael Fellows, of Vancouver, Wash., Mark (Jennifer Cassella) Fellows, of Odell, Ore., and Kent (Ellisa) Fellows, of Parkdale, Ore.; and three beloved grandchildren: Katherine, Jason, and Coeur. He is also survived by a brother, Robin (Lois) Fellows, of Caledonia, Mich., and a dear cousin, David (June) Fellows, of Carmel Valley, Calif.
Dan was definitely a master in the art of woodworking, and truly enjoyed remodeling his home and building wonderful things for his kids and grandkids. His greatest enjoyment came from spending time with his family and watching his boys grow up and raise their own families. He also loved playing cribbage with Noni daily -- and he continued playing with his children and grandchildren.
Dan delighted in taking extended camping road trips with his family and instilled this desire in his sons. Many, many family camping trips spanning over 45 years were spent at Cape Lookout State Park in Tillamook, Ore. Cape Lookout became a home away from home for Dan and Noni and their RV, and was their very special place.
Dan will be dearly missed by all who knew him. As per his request, there will be no formal services. Friends and family are invited to an open house at Dan's home, Sunday, Jan. 25, from 1-4 p.m.
Daniel was preceded in death by his parents; and his wife, Winona.
In lieu of flowers the family asks for memorial contributions to be sent in Dan's name to Cape Lookout State Park at 13000 Whiskey Creek Road W., Tillamook, OR 97141, where a project will be completed in Dan and Noni's honor.