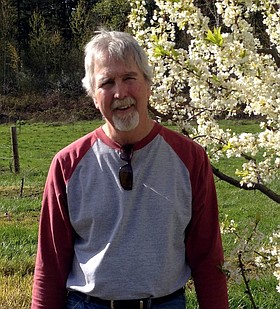 LeRoy Nickerson
December 18, 1950 - January 10, 2015
LeRoy Nickerson, 64, passed away on Saturday, Jan. 10, 2015, on a farm just outside of Hood River. It was not clear at first what caused his death - a medical condition or a tractor accident. The medical examiner determined he did not die of injuries sustained, but suffered an aneurism, stroke or heart attack.
LeRoy was born Dec. 18, 1950, at Fort Bliss in El Paso, Texas, to Charles A. and Lily Ollivene (Ollie) Nickerson. His dad's career was in the Army and the family lived in several places while he was growing up including Dalton, Ill., Naples, Italy, and San Pedro, Calif.
He graduated from Oregon State University in Corvallis in 1971 and moved to Longview, Wash., to work in public accounting for about three years. In 1974 LeRoy and his wife at that time, Chris, moved to Hood River where he accepted a job with United Telephone Company. He continued his career in accounting and finance through the various iterations of the telephone company and left his last position there as treasurer in 1998.
LeRoy married Dana Branson on Dec. 1, 1990; however they'd been a couple for several years prior. In 1994 they bought property and planted cherry orchard in 1996. Over the years they added pears, pluots and cattle.
LeRoy always had many interests. Learning something new and attempting anything that piqued his interest did not intimidate him. He has actively participated in building and remodeling his homes and rental properties learning about wiring, plumbing and all aspects of construction along the way. He could work outside all day on one of his projects and then come in to fix a wonderful dinner and/or bake a killer pie. He embraced new technologies and was always out front with adopting the latest computer, phone, TV, music equipment, etc.
LeRoy started playing bass guitar in high school when he lived in Italy. He and his eclectic group of friends were able to get bookings at the officer's club on base. He continued to follow that interest into college where he met David Johnson and they formed a group in Corvallis to play around that area. When he met Dana he reconnected again with David and they formed Larkspur.
Larkspur got their first booking in May 1982 and continued with various members in and out (you know how musicians are) until February of 2013 with some breaks throughout that time. Since then LeRoy, Dana and Diane Leibbrandt had been practicing music together in LeRoy's Taj Ma-Barn. LeRoy was so anxious to try to get bookings again with the new sound and configuration.
LeRoy is survived by his wife, Dana; mother, Ollie, who's been living in Hood River on his place since 2006; a brother, Leland (Nick) Nickerson, and his wife, Janiel, of Nampa, Idaho; a sister, Lorena Sherlock, and her husband, Steve, of Crowley, Texas; as well as a niece and seven nephews.
His father, Charles, preceded him in death.
Memorial contributions are suggested to Opportunity Connections, WINGS or the charity of your choice. The family wishes to acknowledge all our friends and acquaintances who have already come forward to help and comfort in so many loving ways. The depth of our gratitude cannot be adequately conveyed. Services are planned for 1 p.m. Monday, Jan. 19, at Anderson's Tribute Center (Funerals • Receptions • Cremations), 1401 Belmont Ave., Hood River, OR 97031; 541-386-1000. A reception will follow. Interment will be held at 10 a.m. Tuesday, Jan. 20, at Idlewilde Cemetery, 980 Tucker Road, Hood River. Please visit andersonstributecenter.com to leave a note of condolence for family.

Condolences are being received online.