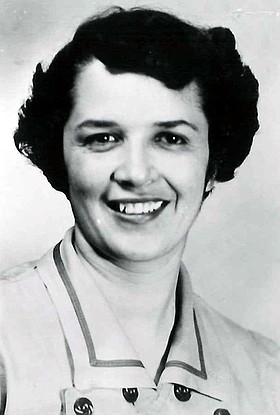 Elisabeth Ione Dallmann
December 13, 1920 - January 19, 2015
Former Hood River resident Elisabeth Ione Dallmann passed away Jan. 19, 2015, peacefully at her home in Madras, Ore., at the age of 94. She was born Dec. 13, 1920, in Grand Rapids, Minn., the eldest of five children born to Dr. George and Essie (Rogers) Gingerich. She grew up in Bovey, Minn., where her father had a chiropractic practice.
When Elisabeth was 9, and the Great Depression hit, the Gingerich family moved to the farming area of St. James in southern Minnesota, where patients could pay her father in chickens and eggs when money was scarce.
In high school, she was an excellent student, participated in plays and public speaking contests, and was the homecoming queen her senior year. In the summers, she enjoyed staying on the farms of her Amish relatives in Kalona, Iowa.
She graduated in 1939, and attended Mankato Teachers College in 1940. There she met fellow student James Ore, and they were married at her parent's home on Dec. 21, 1941, at the outbreak of World War II. Their daughter Carol was born in 1942. They moved to Iowa, where James taught and she attended summer school for six years to earn a teaching certificate.
James passed away and she married Harvey Dallmann on April 10, 1949, and became a mother to his two young sons, Ronnie and Ricky. Their daughter Susan was born in 1950. Elisabeth taught in Sleepy Eye, Minn., and three other communities.
In 1956, Elisabeth and her daughters moved to Hood River, where she taught second grade for 10 years at Coe Primary. Coming from the flatlands of Minnesota, they were enthralled with the snow-capped mountains, Columbia River Gorge, and abundance of orchard fruit and berries. She was a member of Riverside Church.
Elisabeth took a year off from teaching to finish her degree, and in 1961, graduated with honors from Eastern Oregon College in La Grande with a bachelor's degree in elementary education. She taught in Eugene and Hood River, and spent the summers hiking and enjoying the Oregon Coast.
She was a child welfare caseworker in The Dalles, and taught in Rufus and Portland before retiring early. Exploring new interests, she worked as a hostess at the Hood River Inn, waitress, florist, Avon lady, Lloyd Center clerk, and pie baker for Tebos Restaurant.
Settling in Salem, she spent the next 39 years going on excursions with the Geology Club, Brightsiders Club, and senior center, enjoying the city's cultural opportunities, the Salem Library, and walking daily through the beautiful neighborhoods to Bush Park. She was a member of Unity Church.
Her other interests included square dancing, hiking, art club outings, picking berries and fruit, gleaning for others, Oregon history, letter writing, stargazing, family gatherings, and seeing her grandchildren and great-grandchildren.
In 2009, Elisabeth moved to Madras to be near her younger daughter and enjoy the sunny, dry weather and mountain views.
Survivors include her daughters, Carol Johnson, of Salem, and Susan Matheny (and spouse Ron), of Madras; stepson, Rick Dallman (Judy) of Minnesota; brother, Dr. Ralph Gingerich (Dee) of Salem; sisters, Elaine Torkelson, of Minnesota, and Alice Marie McCrum, of North Carolina; grandchildren, Anthony Johnson (Kitta), of Portland, Lisa Leonard (Jon), of Ellensburg, Wash., and Marty Matheny (Ariana Denney), of Portland; great-grandchildren Ember, Nia and Trinity Leonard, all of Ellensburg, Wash.; and numerous cherished nieces, nephews and longtime friends.
She was preceded in death by her parents; both husbands; brother, Kenneth Gingerich; stepson Ron Dallman; and grandson, Todd Johnson.
A graveside service was held Jan. 23 in Madras. A memorial will be held at 2 p.m. April 18 at Unity Church, 1777 Fabry Road S.E., in Salem.