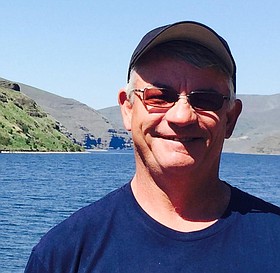 Frederick Cranston Schmidt Jr.
January 24, 1964 - July 5, 2015
Frederick Cranston Schmidt Jr., 51, of Parkdale, Ore., passed away Sunday, July 5, 2015, in a tragic car accident. Fred was born Jan. 24, 1964, in Baker City, Ore., to Frederick and Jayne Schmidt. He was raised in Baker and his father taught him to appreciate activities commonly associated with life in a small town. He loved bird hunting, fishing, and camping. During many summers, he and his sister, Jackie, enjoyed attending a camp located in Cove, Ore.
After losing his father during middle school, Coach Tom Doud took him under his wing. Through Tom's guidance, Fred excelled as an all-around athlete; but his passion was football. Fred was a diehard Pittsburgh Steelers fan and he spent Sundays glued to the TV watching them play. He was offered a football scholarship to Oregon State; however, after he graduated in 1982, he was in a terrible car accident in Hood River and was told he would never be able to play football again. But his innate and natural tenacity and zeal helped him overcome this infirmity; hence during the following year, while attending Western Oregon College, he joined 12 other Baker City boys playing the game he loved.
He married Tammy Peters in 1987 and was blessed with a son, Tyler Dylan, in 1989. He had a successful career at Oregon steel Mill. Eventually he left the mill and pursued yet another career that enabled him to travel the world. Fred was noted as a pioneer in thermal remediation services and utilized his expertise on six of the seven continents of the world, working in a minimum of 35 countries. Fred was an expert at taking waste materials – contaminated sand, soil and marshlands – and creating beneficial products.
Everywhere Fred worked he left a positive impression on those with whom he came in contact. Although he met many people of notoriety he always remained humble. No matter where or with whom he worked, his greatest pleasure at the end of the day was connecting with his son Tyler. Tyler had several opportunities to work abroad with his father. Fred loved his family and made every effort to come home for the holidays.
Eventually, he decided to leave his work abroad and to enjoy his favorite part of the world, Hood River, where he could spend more time with his family. He was very happy with his last two jobs, working at NCS Orchard and at Valley Ag in Parkdale. He mentioned more than once that it was God's country, with the beautiful view every morning of Mount Hood.
It was here, in Hood River, that he reconnected with a childhood friend, Jani Creighton, of Pasco, Wash., on Facebook and fell in love. He enjoyed spending as much time as he could with her. It was through her and her involvement with Camp Patriot that he signed up and did a virtual run of 5K as a fundraiser on July 4.
His love for the outdoors included crabbing at the Oregon Coast, kayaking, golfing, camping and jumping off the bridge at Laurence Lake. He spent his evenings reading and listening to the world news on the radio. Fred had a passion for sturgeon fishing with family and friends and the never-ending quest of catching a keeper!
He is survived by his son, Tyler; his siblings: Kip Taylor, of Kentucky, Kim Cantrell (Tim) and Jackie Heck (Dave), of Hood River; his nephews: Zach Cantrell (Rana), of Post Falls, Idaho, and Chuck Cantrell (Karrie), of Parkdale; his nieces: Sarah Muenzer (Chad), of Parkdale, Nicole Taylor, of Douglas, Wyo., Ashley Murillo (Fernando), Andrea Heck, Mindy Greco (Tommy), of Rock Hill, S.C., and Katie Taylor, of Bend; great-nephews Danny McKaig, Cody Cantrell, Chad Muenzer Jr., Mitchell and Caden Hatfield, and Aiden and Chaz Greco; and great-nieces Natasha and Sierra Muenzer, Kyli Cantrell, Chloe and Briana Cantrell and Hailee Heck.
He was preceded in death by his father, Frederick Cranston Schmidt; mother, Jayne Christjansen; stepfather, John Christjansen; and grandmothers Maude Cranston Ellis, Nell Colton Grant and Geraldine McCracken; and grandfather Thomas Grant.
A Celebration of Life will be held at 3 p.m. Sunday, July 12, at Hood River Valley Christian Church, 975 Indian Creek Road, Hood River, with a reception to follow.
Donations in his memory may be made to Anderson's Tribute Center to assist family with funeral expenses.
Arrangements are under the direction of Anderson's Tribute Center (Funerals • Receptions • Cremations) 1401 Belmont Ave., Hood River, OR 97031; 541-386-1000. Please visit andersonstributecenter.com to leave a note of condolence for family.

Condolences are being received online.