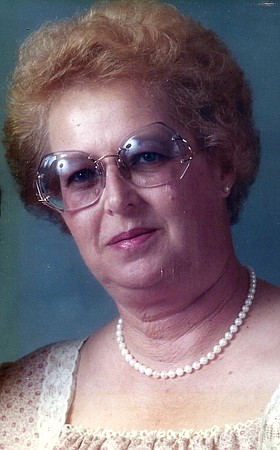 Barbara Maxine Christjansen
September 23, 1931 - April 8, 2015
Barbara Maxine (McCumber) Christjansen was born in Miami, Fla., on Sept. 23, 1931, the child of Lola Maxine Byrd and Ralph Harold McCumber. She passed away on April 8, 2015, in Hood River, Ore.
When Barbara was 14, her mother married Roger R. (Doug) Douglas, who adopted her and whom she loved as a father. Doug was a career Marine.
Barbara was raised as a Catholic and was re-baptized on June 10, 2011, in Hood River.
Barbara was married three times, all to U.S. Marines.
As a result of living with Marines most of her life, Barbara lived in many places including Quantico, Va., Yuma, Ariz., San Diego and Oceanside, Calif., and after her husband John L. (Chris) Christjansen retired, moved to Hood River, which she loved best of all.
Over the course of years, Barbara held many jobs from waitress to secretary. When she lived in Oceanside, Barbara was the office manager for Oceanside Sport Fishing and managed schedules, finances, payroll, accounts receivable and payable, etc.
After her divorce Barbara worked for the sheriff's office as a dispatcher and later in the same capacity for the Columbia River Inter-Tribal Fisheries Enforcement agency until poor health forced her to retire. She earned commendations in both employments.
Barbara had a deep respect for all servicemen, servicewomen and officers of the law. She loved the USA and everyone who stood to protect her country and freedom. She enjoyed all her friends and cherished the friendship of those who have served.
Barbara loved her cats and always had one – or more. She was an avid bowler and missed a 300 game by one strike in 10th frame at the local bowling alley. And she loved jigsaw puzzles, especially unusually shaped ones. A hobby that she enjoyed for years was working with ceramics. She spent many hours making, painting and firing ceramics and her porch was filled with projects just started and in progress.
And she always had flowers outside her home.
Barbara is survived by her brother Bruce Douglas, in Banks, Ore.; her sister, Cindy Ressler, in Trabuco Canyon, Calif.; and her brother Keith Douglas, in Maui, Hawaii.
When Bruce found time to take her to lunch, one of her great pleasures was going for a drive. It could be to Parkdale, out the East Side road, or across the bridge out toward Husum, Wash., or the orchards around White Salmon.
A memorial service will be held Friday, June 19, at 1 p.m. at Anderson's Tribute Center, with a reception to follow.
Arrangements are under the direction of Anderson's Tribute Center (Funerals • Receptions • Cremations), 1401 Belmont Ave., Hood River, OR 97031; 541-386-1000. Please visit andersonstributecenter.com to leave a note of condolence for family.

Condolences are being received online.