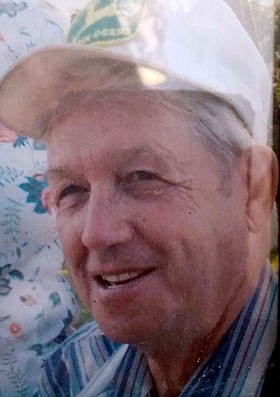 Everett C. Campbell
September 9, 1934 - June 12, 2015
Everett C. Campbell passed away peacefully at his Parkdale, Ore., home in his wife's loving arms on June 12, 2015. He was born Sept. 9, 1934, in Payette, Idaho, the fifth of six children born to Florence and Ezra Campbell.
Everett was raised in Idaho and Montana by his parents and sister Eula. He attended high school in Roy, Mont., where he loved to play basketball and baseball. In 1955 Everett was driving through Roy and had to stop his truck in the middle of the street as this beautiful redhead was crossing the street to go to the post office. He said to himself, "I am going to marry that beauty," and he did – for a lifetime.
Everett married Colleen (Connie) Curts on Sept. 6, 1956, and moved to the family ranch for five years. He worked for several ranches before going into construction. He enjoyed playing in a country band, hunting and being with his family.
In 1963 construction moved his family to Parkdale, Ore. He stayed there until 1979 and moved to Mitchell, Ore., with his family to pursue his love of working on a cattle ranch again. He worked on the Cherry Creek ranch. He moved back to Parkdale in 1985 and worked for SDS Lumber for 17 years. In his retirement he enjoyed spending his peaceful life with Connie on Miller Road, where they took many walks and enjoyed their gardens. He loved going elk hunting with his son and friend Matt, always with a game of cribbage. Attending his family reunion once a year, where he played his guitar and told many stories, was a special event and never missed.
He was surrounded by many loved ones at the time of his passing. He will be missed by many.
He is survived by his wife of 59 years, Connie; six daughters and one son: Alice and Ken Clarke, of Parkdale, Shirley Lemon and Dave of Orlando, Fla., Nyla and David Moncey, of Grand Junction, Colo., Billie Jean and Jim Norman, of Redmond, Ore., Evelyn Summers and Frank, of Privilege, Ore., Stan Campbell and Lacy, of Hood River, and Nichole and Tim Harris, of Vancouver, Wash.; siblings Alvin Campbell, Eula Reynolds, Maxine Doney, Gracy Lucky and Melvon Campbell; brothers- and sisters-in-law Dale Gar, Jerry Gar, Kathy Fink, Lucille Gar, Jim Gar, Eileen Nelson and Dave Gar; 19 grandchildren, 21 great-grandchildren and numerous nieces and nephews.
The Celebration of his Life will be held at 2 p.m. June 19 at the Mount Hood Town Hall. Everett would love for you to celebrate and tell your favorite story. Join us for food and drink.
A special thank-you to Heart of Hospice; the wonderful nurses at the Providence Hood River Memorial Hospital who were so caring; and Nathan Clarke, Kenny Merz and all of the volunteers at the Parkdale Fire Department who were always there in time of need.
Arrangements are under the direction of Anderson's Tribute Center (Funerals • Receptions • Cremations), 1401 Belmont Ave., Hood River, OR 97031; 541-386-1000. Please visit andersonstributecenter.com to leave a note of condolence for family.

Condolences are being received online.