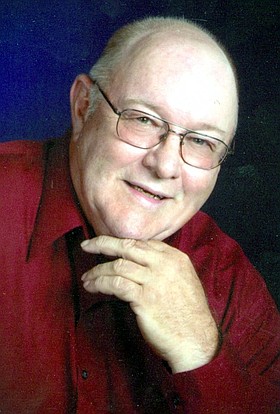 Truman "Smokey" Leonard Smiley
May 8, 1947 - June 6, 2015
Truman Leonard "Smokey" Smiley was born to Jack Dempsey Smiley and Ruth Mae "Hyatt" Smiley on May 8, 1947, in Bryson City, Swain County, N.C. He passed into Eternal Life on Saturday, June 6, 2015, at Providence Portland Medical Center with his loving wife by his side.
His father was in the Air Force so the family moved around a lot, living in North Carolina, Florida and Missouri. In 1956 the family moved to Bingen, Wash., and then to Kinzua, Ore., where he spent "the best years of my life." In that small company-owned logging town he made lifelong friends, learned to hunt and fish, had many reckless adventures and shared "fried apple pies" with his friends at his Granny's house. The family lived there until Smokey completed the eighth grade, then moved to Odell, Ore. Smokey attended high school at Wy'east and graduated from there in 1965.
In 1963 he suffered a terrible accident that would change his life forever. Due to the Grace of God, the quick work of the Odell Fire Dept. and excellent care he received at Hood River Memorial Hospital and Providence Medical Center, he survived to become an inspiration to his family, friends, and many others whose lives he touched throughout the years.
In March 1966 he met the person who would share the rest of his life with him. At Blue Mountain College, on her birthday, he met Sharon Ann Green and they were to be together from that day forward.
They were married Sept. 16, 1966, in Hermiston, Ore., at the First Christian Church. They made their home in Pendleton, Ore., for two years. She worked as a telephone operator and he detailed cars for a local dealership.
In 1968 they moved to Kinzua, Ore., the place he loved and with which she quickly fell in love. He worked as a boiler fireman and a night watchman, while she stayed home to care for their soon-to-be growing family. In 1969, their first son, Eric Shawn Smiley, joined the family. In 1972, their second son, Jason Matthew Smiley, joined this little family. In 1976, their family was complete with the arrival of their third son, Karl Gabriel Smiley.
In 1978 the family was saddened by the closing of the mill. They had to move from that lovely setting, leaving all their friends who were also forced to move to many other cities. The bright spot in this story is that they moved to Hood River, where Smokey had many friends from his high school years. Smokey continued to work at sawmills for several years. Due to mill closures, he needed to make a career change. After working at the State of Oregon Employment office for about a year as a jobs placement worker, he was hired by the State of Oregon as a JOBS worker. He held several positions with Adult and Family services over the years including food stamp worker, welfare assistance worker and finally as an administrative assistant. He retired from the State after 19 years.
As his family grew, he was introduced to the joys of Little League, coaching a T-ball team, band concerts, and school plays and music concerts.
He also enjoyed sharing his love of hunting, fishing, music, archery, camping, and golf with his sons and their friends. It didn't matter if it was a backyard barbecue or baseball game, he was in. As the boys grew and began bringing home girls he was always there to tease and tell stories, much to their chagrin.
When the boys married and grandchildren came along, he loved spending time with them. He could change diapers with the best of them and never said no to an over-night. Later, he would be a hit at their games, cheering for both sides. It didn't matter; he loved being with the kids.
Smokey loved to travel and see new places. We traveled throughout the United States and Western Canada, but when we began to travel internationally he found his true love. He traveled to the United Kingdom, Italy and Sicily, and China and Tibet. He enjoyed the people, the new cultures, the beautiful countryside, and the food. It didn't take him long to "go native" as he called it and absorbed the new ways of the countries that he visited. He thought that sitting in the airport in Shangri-La waiting for a delayed flight while reading "Lost Horizon" by James Hilton, the only book available in English, was one of his most ironic adventures.
Smokey served his community for many years as a volunteer fire fighter with the Odell Fire Department. He enjoyed the camaraderie and took advantage of the training that was offered. He held the position of safety officer for the department and also worked with the Mid-Columbia Fire Investigation team.
He was always a "people person" and easy to get along with. He was very talented working with one hand. He could adapt to anything and did his own carpentry, plumbing, and car repairs. Everyone would always say "how does he do that?"
Called "brother" by some and "friend" by many, he will leave a big gap in the lives of so many people.
He is survived and will always be missed by his wife, Sharon; his mother, Ruth Smiley, of Hood River; his sons and their wives: Eric (Toni) of Portland, Ore., Jason (Kim) and Karl (Katie), all of Hood River; his grandchildren: Crystal Chambers, Breanna Cooper, Erika Smiley and Cassandra Smiley, all of Portland, Brian Courtney, of Beaverton, Ore., and Brandon Smiley and Kyle Smiley, of Hood River; his great-granddaughter, Meora Chambers, of Portland; his sister Wanda Smiley and her partner Scott Lindsey, of Hood River; his brother-in-law Kerry Green, of Hermiston, Ore.; and numerous nieces and nephews.
He was preceded in death by his father, Jack Smiley; his grandparents, Horace McKinley Smiley, Marietta "Davis" Smiley, Thomas Settles Hyatt and Clora Mae "Maynor" Hyatt; and his great-granddaughter Zuri Chambers.
A Celebration of Life will be held Wednesday, June 17, at 11 a.m. at Hood River Valley Christian Church, 975 Indian Creek Road, Hood River. A reception will follow the service at the church. Interment will follow at Pine Grove Butte Cemetery.
In lieu of flowers memorial donations may be made to: Odell Fire Department, P.O. Box 56, Odell, OR 97044.
The family would like to thank Providence Portland Medical Center for its wonderful care, the Wy'East Fire District for its support, and all of our family, friends, and church family for their loving support, cards, flowers, and kindness to us during this difficult time.
Arrangements are under the direction of Anderson's Tribute Center (Funerals • Receptions • Cremations), 1401 Belmont Ave., Hood River, OR 97031; 541-386-1000. Please visit andersonstributecenter.com to leave a note of condolence for family.

Condolences are being received online.