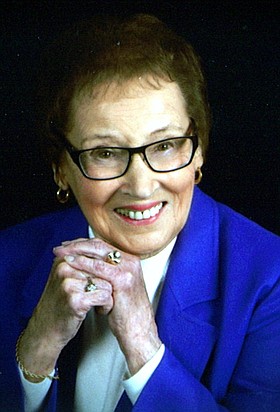 Dorothy Evans Radliff
August 7, 1919 - June 17, 2015
Dorothy Evans Radliff, 95, a longtime Hood River resident, went home to Heaven gracefully on Wednesday morning, June 17, 2015, at Providence Hood River Memorial Hospital. Dorothy was born on Aug. 7, 1919, in Whittier, Calif., to B. Ross and Ruth (Kilmer) Smith Evans, joining her sister, Ruth, 20 months her senior.
During that time, her father was managing a meat market while attending Seminary to become a minister, and her mother was studying general music, voice and piano. World War I was just coming to an end, and Woodrow Wilson was our 28th president.
In 1922, B. Ross was called to his first pastorate in Portland, Ore., and a result, little Dorothy officially became an "Oregonian" – a title she would claim for the rest of her life. It was in Portland where her brothers Frederick Ross and Benjamin Ross Jr. (Pat) were born, and in late fall of 1924, with four children in tow, B. Ross began a new assignment as pastor of the United Brethren Church in Tillamook, Ore., where baby sister Eileen was born in 1926 and Dorothy and her family lived through her sophomore year in high school.
During the Depression years, Dorothy's father held evangelistic meetings to recruit new members for small churches throughout Oregon that had been forced to close, or were on the brink of closing due to lack of money. As a result, Dorothy completed her high school years in Corbett, Hood River, and Eugene, where she graduated in 1937.
After her graduation, the Evans family moved back to Hood River, where her father became pastor of the (old) Hood River Valley Christian Church on Barrett Drive. It was in Hood River that her friend Madeline Wells (Edwards) introduced her to a college boy named Richard Radliff, who at the time was dumping cherries on the cherry packing line at Nickelsen's packing house to put himself through school.
Dorothy often said that her life truly began when she winked at Richard while he was working, causing him to blush furiously and look over his shoulder to see if someone was standing behind him.
Dorothy's father officiated at Dorothy and Richard's wedding on July 4, 1941, at the Hood River Valley Christian Church. They lived in Corvallis while Richard finished his last term of college, and then traveled to many locations throughout the United States after Richard was called into active duty by the Army in December 1941. Their first son, Richard Jr. (Dick), was born in June 1944 in Lawton, Okla., while Richard was stationed at Fort Sill. Shortly after Dick was born, Richard was deployed to Germany and Dorothy returned to Hood River until he returned.
After the war, and once again living and working on the family orchard in Hood River, another son, Doug, was born in February 1947, followed by a daughter, Laurie, in January 1956. Dorothy lived the rest of her life in Hood River, working as a housewife, Scout den mother, 4-H leader, Sunday school teacher and sports mom during her child-raising years, and later in retail sales at Stones Ski and Sports, The Gadabout, and Apland's Jewelry in Hood River. She lost her beloved Richard in April 2007, just two months before their 66th anniversary.
Dorothy loved her family, always putting their needs and wants before her own. She also loved to dance, play golf, travel, be outdoors and laugh – often infecting those around her with her merriment. She loved the Hood River Valley Christian Church, her Bible study group, and spending time with her many, many friends – all of whom loved her dearly and will miss her very much.
Dorothy is survived by her son Richard (Dick) Radliff and his wife, Teri, of Hood River; son Doug Radliff and his wife, Lily, of Husum, Wash.; and daughter, Laurie Radliff Branson, and her husband, Floyd, of Hood River. She is also survived by grandchildren Jeff Radliff, Jill (Radliff) House, Jody (Radliff) Loop, and Seth Chandler; and great-granddaughter, Hannah Hart.
In addition to her husband, Richard, Dorothy was predeceased by her brother Fred Evans in 2013, sister Ruth (Evans) Wickersham in 2011, sister Eileen (Evans) Bostwick in 2009, and brother Benjamin Ross (Pat) Evans Jr. in 1944.
Dorothy was a blessing to all who knew and loved her. Our lives are forever blessed because of her life, and will be forever changed as a result of her passing.
Memorial services are planned for 1 p.m. Saturday, June 27, at Hood River Valley Christian Church, 975 Indian Creek Road, Hood River. Interment will be at Idlewilde Cemetery. Contributions may be made to the Hood River Valley Christian Church in care of Anderson's Tribute Center.
Arrangements are under the direction of Anderson's Tribute Center (Funerals • Receptions • Cremations), 1401 Belmont Ave., Hood River, OR 97031; 541-386-1000. Please visit andersonstributecenter.com to leave a note of condolence for family.

Condolences are being received online.