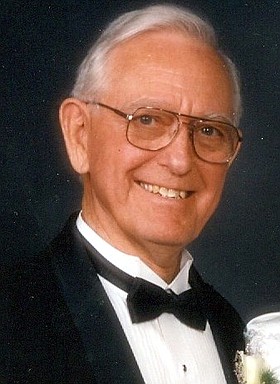 Clarence Ford Franks
September 29, 1919 - June 21, 2015
Clarence Ford Franks, 95, of Odell, passed peacefully Sunday, June 21, 2015, while surrounded by family, at Providence Hood River Memorial Hospital in Hood River, Ore. Ford was born in Texas and moved with his parents to San Francisco in 1940. During World War II, Ford served his country as a B-17 pilot and retired from the Air Force with the rank of major. He earned a Bachelor of Education degree from the University of San Francisco and Master of Education degree from USC. However, he remained loyal to the Texas Longhorns throughout his life.
Ford married his first wife, Kay, in San Francisco in 1948. In 1958 Ford moved his family to Parkdale, Ore., and took a teaching position at the Parkdale Elementary School. He served as the fourth grade teacher and principal for many years before transferring to Mid Valley to finish his career. He taught school in the Hood River County School District for 33 years. Ford was loved by his students and in his retired years, he enjoyed reviewing class pictures and telling us stories from his many years as principal and teacher.
He married our beloved Nana, Kathy Garner, in 1971. They enjoyed 44 years together and sharing their faith and commitment to family. Ford was a faithful husband and a caring and loving father and grandfather. His family was the center of his life and he and Kathy loved having their girls and grandchildren visit.
Life was rarely confusing for this Texan. He read his Bible regularly and based his decisions on the wisdom and guidance he found there. He walked through his life quietly, living what he believed. The gentle, strong, humorous, wise man you knew in public was the same man we knew at home – his integrity and character never faltered; his word was his bond. He enjoyed nature, reading, teaching and gathering at Gehrig's Chevron to discuss politics.
Ford is preceded in death by his son Kenneth and his first wife, Kay.
He is survived by his wife, Kathy Franks; daughters Kathy Obilana and Becky Franks, of Hood River, and Kristina and his favorite son-in-law, Jason Worsham, of Parkdale; grandchildren Jason Obilana, Keith and Candice Obilana, Marcia Obilana, Ben Wadman, Jon Wadman, Sam Wadman; Brigid DePriest, and Jocelyn Worsham; and great-granddaughter, Emma Obilana.
Ford was interred at Idlewilde Cemetery Monday, June 22, during a private family service. Please visit the Ford Franks Memorial page on Facebook and share your stories.
Our family and our community has lost a great man.
In lieu of flowers, memorial donations may be made to the American Cancer Society and the Hood River Education Foundation. We would like to express our appreciation to the Odell EMTs, and Providence Hood River Memorial Hospital for their gentle and respectful care of Ford; and to Anderson Tribute Center, and Bob Huskey for their assistance and flexibility during this time of grief. We have been greatly comforted by the stories and condolences of former students and friends; thank you.
Arrangements are under the direction of Anderson's Tribute Center (Funerals • Receptions • Cremations), 1401 Belmont Ave., Hood River, OR 97031; 541-386-1000. Please visit andersonstributecenter.com to leave a note of condolence for family.

Condolences are being received online.