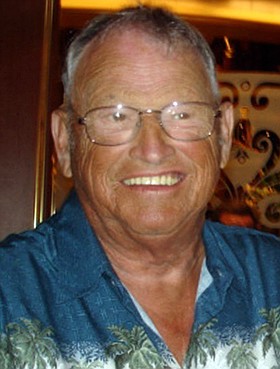 George Russel Nichols
December 9, 1935 - February 17, 2015
George Russel Nichols, longtime resident of Gresham, Ore., died on Tuesday, Feb. 17, 2015. He was 79 years old. George was born in The Dalles, Ore., on Dec. 9, 1935, to Russel H. and Marjorie M. Nichols. He spent the majority of his younger years in Cascade Locks, Ore., where he graduated from high school.
He married Donna Wilson on March 3, 1961. They moved to Gresham, along with their two daughters, in 1972 when their family business, Manchester's Distributing Inc., relocated to that area. George and Donna owned and operated the company until 1986. Later George owned and operated Manchester's Hardware in Cascade Locks and before final retirement, worked in customer service at Camp's Lumber in Gresham. He spent his leisure time hunting, fishing, bowling and playing cribbage.
George is survived by his wife, Donna; his daughter Tracy Esguerra (Servi), of Tualatin, Ore.; his daughter Lisa Boatright (Tony) of Beaverton, Ore.; grandchildren Tyler and Austin Boatright, Andrea and Alexa Esguerra, and an adopted granddaughter, Hannah Christensen, of Ashland, Ore. He is also survived by his brothers: Gary Nichols, of Thousand Palms, Calif., Richard Nichols, of Pendleton, Ore., and Michael Nichols, of Walla Walla, Wash. In addition, he leaves behind numerous nieces and nephews, and countless friends.
A Celebration of Life will be held on Saturday, March 7, 11 a.m. at Grace Community Church, 800 S.E. Hogan Road in Gresham. A private interment will be held at Willamette National Cemetery in Portland this summer. The family requests, in lieu of flowers, contributions may be made to the Oregon Lions Sight and Hearing Foundation at olshf.org or the Cascade Locks School Scholarship Fund.