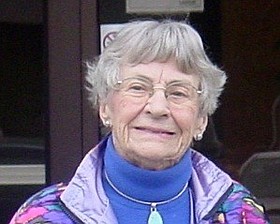 Jane Eleanor Gary
August 1, 1920 - February 15, 2015
Jane Eleanor Gary passed away on Sunday, Feb. 15, 2015, at Hawks Ridge Assisted Living in Hood River, Ore. Jane was born on Aug. 1, 1920, in Detroit, Mich., to John Rayder Williams and Ethel May Blackford. Jane, her older sister, Peggy, and her parents traveled from Detroit to Portland, Ore., in the late 1920s. After attending two years of college at Oregon State University in Corvallis, and with the onset of World War II, Jane fell in love with and married Jack Nolan Gary, who was training to be a pilot in the Army Air Corps, in 1942. Jack was stationed in North Africa and flew P-38's throughout the Mediterranean theater.
When Jack safely returned home from the war, he and Jane began a 20-plus year military career together. Their first daughter, Tracy, was born in 1946 in Portland, Ore. Their second daughter, Alexa, was born in 1949 in Minneapolis, Minn. What followed was a wonderful series of adventures as the family was stationed in Bermuda, Wichita Falls, Texas, Misawa, Japan, and Denver, Colo., before they retired from military life in 1961 to settle in La Jolla, Calif.
After Jack's death in 1979, Jane married Alan Phinney who was the captain of a Scripps Oceanographic research vessel. Once again, the world opened up to Jane. She would join Alan at exotic ports of call and partake in the expeditions. They shared many memorable years together until his passing.
Jane had an amazing lust for life. A master gardener, she turned her La Jolla home into a fantastic secret garden that always astonished visitors. Her collection of masks, acquired through her travels, numbered over 300 pieces. After moving to Hood River following a stroke in 2008, her collection was featured at the Columbia Art Center. This was truly a highlight of her life.
Above all else, Jane loved music and dance. Music filled her home as a child. As she and her sister became young women, dancing to the Big Bands at Jansen Beach Ballroom was a constant joy. Throughout her military life, she was a participant in many a show presented by the Officer's Wives Club.
Moving to Hood River was a huge transition. Not only did she give up a level of independence, but she had to give up her treasured, bright yellow Mini Cooper. Once again, music and dance came to the rescue in the form of "Thursday nights at The Pines." With the help of wonderful local friends, Jane became a "regular" on the dance floor. She lived for these special moments and they served as inspiration and incentive when subsequent strokes took their toll. For Jane, music was magic, music was life.
Jane is survived by her daughters Tracy (and husband Tom) Rutherford, of Brawley, Calif., and Alexa (and husband Bob) Dill, of Mosier, Ore.; granddaughters Samantha Tonroe, of Powell Butte, Ore., and Devon Vogt, of Kingsburg, Calif.; and four great-grandchildren.
A celebration of Jane's life is planned for the near future.
Arrangements are under the direction of Anderson's Tribute Center (Funerals • Receptions • Cremations), 1401 Belmont Ave., Hood River, OR 97031; 541-386-1000. Please visit andersonstributecenter.com to leave a note of condolence for family.

Condolences are being received online.