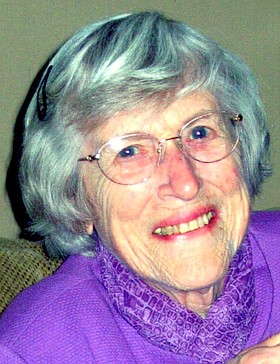 Elaine Mohr
September 20, 1922 - March 10, 2015
Elaine Mohr, 92, of Eugene, Ore., passed away on March 10, 2015, from age-related complications and cancer. Elaine was born in Hood River, Ore., on Sept. 20, 1922, and was the daughter of Leo and Stella Drake.
Elaine was well-traveled as a child as her parents moved around Oregon in search of opportunity. They made stops in Heppner, Milwaukee and Klamath Falls, Medford and finally back to Hood River. As with most from her generation, the Great Depression was difficult and left a permanent imprint on her memory and life.
Elaine graduated from Hood River High School in 1940. During her senior year, she was crowned the Hood River American Legion Queen. On July 21, 1940, Elaine led the 20th annual American Legion climb from the Mount Hood Legion Camp to the summit of Mount Hood. Elaine became the first Legion Queen to lead this challenging night time climb to the summit.
After high school Elaine went on to attend and graduate from Oregon State University. Following Elaine to OSU was her childhood sweetheart, Ted Mohr. With the onset of World War II, Ted enlisted in the Navy and was off to war. Just prior to Ted leaving, Elaine and Ted married in a military ceremony in Hood River on June 3, 1944.
Elaine graduated from OSU in 1944 with a degree in education and home economics. Her first teaching job was in Seaside, Ore., where she taught high school home economics. Elaine had the misfortune of renting an apartment above the old Seaside Aquarium. She heard students squawk by day and sea lions by night. After one year in Seaside she moved to Seattle where Ted had had been stationed briefly before being deployed to the Aleutian Islands. After World War II Elaine and Ted lived in Seattle for two years. They later moved to Portland.
In 1950 Ted was recalled by the Navy for the Korean War. He was stationed in Bremerton, Wash. Elaine and young sons Tom and Richard joined Ted on Bremerton Island. In 1953, after the Korean War ended, Elaine and Ted relocated their young family to Eugene. Soon after their arrival in Eugene their third son Jay was born.
After raising her three sons, Elaine returned to teaching in Eugene; first, part-time at Colin Kelly Junior High and then finally full-time at Madison Junior High. Elaine taught home economics. She retired in 1982 after teaching at Madison for 24 years. Elaine was responsible for teaching several thousand young ladies (and a few young men) how to cook and sew. It was not uncommon for Elaine to be approached by women in Eugene who informed her that she had been their teacher. Two of her recent caregivers and a nurse even recognized and acknowledged Elaine.
Elaine spent her retired years traveling domestically and internationally, square dancing, gardening and enjoying her four grandchildren and three great-grandchildren. She was an avid Beaver fan until the end. Elaine was very proud of her custom-made Beaver blanket and could be seen marching around Sheldon Park Assisted Living on game day in one of her many OSU outfits. One bright orange spot amongst a sea of green and yellow. It is not easy being a Beaver in Eugene. Go Beavers!
Elaine was preceded in death by her husband of 67 years, Ted Mohr. She is survived by her three sons: Tom Mohr, of Eugene, Richard Mohr (Robert), of Urbana, Ill., and Jay Mohr (Kim), of Scottsdale Ariz.; four grandchildren: Scott Mohr (Anne) of Tucson, Ariz., Shawn Mohr, of Eugene, and Alison Mohr and Lauren Mohr, both of San Francisco; and three great-grandchildren. She will be greatly missed by her family and friends.
Elaine's family would like to recognize the following people and organizations who assisted Elaine over the last several years: the staff at the PeaceHealth Barger Clinic Senior Health & Wellness Center, the staff at Sheldon Park Assisted Living, Janet McDonald, Kirk Latham, and the wonderful nurses that assisted her in her final days at the Sacred Heart University District Acute Care for Elders (ACE) unit.
A very special word of appreciation goes out to Dr. Jae H. Lee and his staff at the Willamette Valley Cancer Institute who were responsible for Elaine's care over the last seven years.
A Funeral Mass will be held Tuesday, March 17, at 11 a.m. at St. Jude Catholic Church in Eugene, with a burial following the service, 1 p.m. at Mt. Calvary Cemetery in Eugene.
In lieu of flowers please consider a donation in Elaine's memory to the Oregon Cancer Foundation, 520 Country Club Road, Eugene, OR 97401.
Arrangements are under the direction of Musgrove Family Mortuary, 1152 Olive St., Eugene, OR 97401; 541-686-2818.