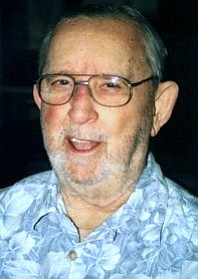 James Joseph Walker
November 18, 1920 - March 10, 2015
James Joseph "Jim" Walker was born on Nov. 18, 1920, and passed on March 10, 2015. Jim was born to Marvel (James) and Charles Smith in Portland, Ore. Marvel's second husband, Tom Walker, adopted him later in life.
Jim was preceded in death by his wife, Ruth (Stanford). He is survived by his daughters Grace (husband Victor Neumann), of Santa Barbara, Calif., and Luci (husband Kevin Widener), of Underwood, Wash., and brother Charles (wife Pat) of Gresham, Ore.
Jim grew up mostly in Portland and descended from early pioneers in eastern Washington. He served an enlistment in the Oregon National Guard in an artillery unit. On Dec. 7, 1941, Japan attacked Pearl Harbor and Jim enlisted in the Navy that day. A month later after a rushed boot camp in San Diego, Jim was a crewman aboard the USS Sabine (AO-25) as it sailed into Pearl Harbor. Aboard the USS Sabine, Jim sailed all over the Pacific and was involved in most major naval engagements including the Doolittle raid on Tokyo.
Jim loved to tell stories and his favorites were of his time spent in the Navy, his wife and daughters, and growing up in Portland. He was an expert scrounger able to find equipment, food, and entertainment for his crew where others failed. He rose to the rank of Petty Officer 2nd Class.
After the war, Jim attended the University of Oregon and Vanport College and found work at the Hanford site near Richland, Wash. It was at Hanford that he met a young chemist from Oklahoma, Ruth Stanford. After a brief courtship, they were married on Feb. 4, 1950. In 1962, Jim and Ruth adopted Grace and Luci as newborns and their life changed forever! After raising two daughters, Jim retired from Hanford in 1983 and he and Ruth moved to Florence, Ore. They enjoyed fishing and being near the ocean. Ruth's illness brought them back to Richland to be near family.
After Ruth's passing in 2007, Jim was heartbroken but determined to, in his words, "live until he died." He moved to Hawks Ridge Assisted Living Community in Hood River in 2010 to be near Luci. The last several years, Heart of Hospice managed Jim's health care. He was very fond and appreciative of the staff and volunteers. They went "above and beyond" and even provided him a dinner of Rocky Mountain oysters! He was also very happy with the care he received from the staff of Hawks Ridge. The caregivers were very special to him. The family cannot thank Heart of Hospice and Hawks Ridge enough for all they did for Jim!
A memorial service was held on Friday, March 13, at Hawks Ridge. Jim and Ruth's ashes will be spread in Florence, Ore., at a later date. Memorial donations may be made to Heart of Hospice.