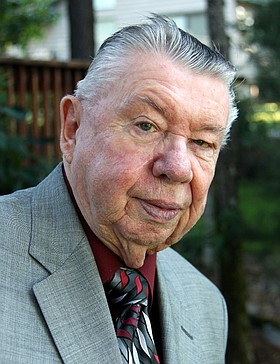 William Dale Pierson
August 25, 1929 - February 11, 2015

William Dale Pierson passed away in his Hood River, Ore., home Feb. 11, 2015, surrounded by his family and his Love - Elizabeth Cole.
Dale was born in Grand Island, Neb., on Aug. 25, 1929, to parents Margaret (Chestnut) and Orlie Pierson. He was a Kansas State graduate, holding degrees in architectural engineering and architecture. He was a high level manager with Boeing (Wichita) for over 35 years and, upon his move to Hood River, opened his residence design business. As many people have attested – he was the best-dressed man in Hood River, often seen cruising through town on his scooter in his suit and tie. He was a man of integrity and his constant generosity changed the lives around him.
Dale enjoyed golf, model railroading, cars, playing the organ and piano, his scooter, and especially playing GOOD bridge with friends. Being a Midwesterner, he also knew how to make wonderful home-made strawberry ice cream! (The vanilla wasn't bad either.) Many occasions were made sweeter with the gift of "his" ice cream for dessert.
Dale is preceded in death by his parents and his wife of 40 years, Martha Pearl (Parker) Pierson, who died Feb. 14, 1997.
He is survived by "The Love of His Life," Elizabeth Cole, of Hood River, Ore.; his son, Joel C. Pierson, of Big Fork, Mont.; his daughter and son-in-law, J.R. Windsor and David L. Windsor, of Hood River; his daughter Subhadra D. Katz, of Hood River; and his granddaughters, Skye M. Windsor, of Santa Clara, Calif., and Sierra M. Windsor, of Pullman, Wash.
An ice cream social in his honor – featuring his Famous Ice Cream – will be announced soon.