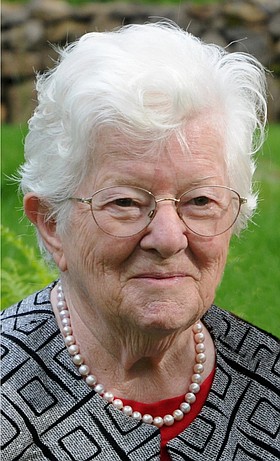 Verna Milladene Weber
April 23, 1930 - March 17, 2015
Verna Milladene Weber, 84, passed away of natural causes Tuesday, March 17, 2015, at home in Odell, Ore., with her family at her side. Verna was born April 23, 1930, in Leavenworth, Wash., to Ernest and Inez Lowell (Kramer).
Verna dedicated her life to her family and to the service of others. She was also an active Lionness. She was married April 21, 1973, to Ted Weber, who is remembered by many for the Weber's Hardware Store in Odell, which faithfully ran for over 40 years.
Verna was a loving mother of eight, and is survived by her children: Clarence Lowell, of Hood River, Ore., Cheryl Krieger, of Odell, Dr. Raymond Krieger, of South Korea, Ruben Krieger, of Portland, Ore., Sharon Slaughter, of The Dalles, Ore., Richard Krieger, of Chillicothe, Texas, Debbie Elliott, of Odell, and Teresa Spratt, of Gatesville, Texas; 22 grandchildren; her siblings Judy Chrisco, of Port Townsend, Wash., Louis Lowell, of Wenatchee, Wash., Wynona Leak, of Friday Harbor, Wash.; and many great- grandchildren, nieces and nephews as well as many dear friends that were very close to her heart.
The many large family gatherings that were held over the years were always filled with lots of love, laughter, sharing old memories and planning for new. Verna was known and loved for her spirited ways, her story telling, especially regarding her children's creative adventures, and a great sense of humor. She also had an amazing green thumb, taking even a simple stem and growing it into a beautiful rose. She was a wonderful grandmother, who will always be missed, and never forgotten.
She was preceded in death by her husband, Ted; parents Ernest and Inez Lowell; brothers Harry Lowell, William (Bill) Lowell and Howard Lowell, and sisters Sharon Lowell and Ruth Macfarland.
Donations can be made in Verna's name to the Alzheimer's Foundation (322 Eight Ave., 7th Floor, New York, NY 10001) or National Parkinson Foundation (P.O. Box 5018, Hagerstown, MD 21741).
A time to Celebrate Verna's life is planned for 2 p.m. Tuesday, March 24, at Anderson's Tribute Center. Graveside rites will be held at Idlewilde Cemetery, 980 Tucker Road, Hood River. Following graveside rites, there will be a reception at the Odell IOOF Odd Fellows Lodge, 3051 Odell Highway, Odell, Ore.
Viewing will be held from 9 a.m. to 5 p.m., Monday, March 23, at Anderson's Tribute Center.
Arrangements are under the direction of Anderson's Tribute Center (Funerals • Receptions • Cremations), 1401 Belmont Ave., Hood River, OR 97031; 541-386-1000. Please visit andersonstributecenter.com to leave a note of condolence for family.

Condolences are being received online.