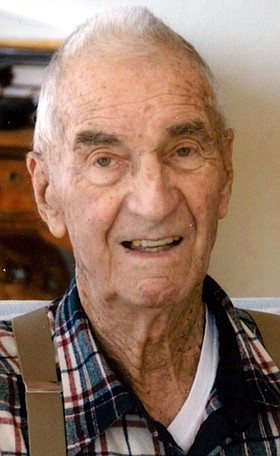 W. Gowlan Wells
September 9, 1917 - March 17, 2015
Hood River native Gowlan Wells died Tuesday, March 17, 2015, at the age of 97 surrounded by his family at his home in Pine Grove, Ore. Viewing will be March 27 from 4-6 p.m. at Anderson's Tribute Center, 1401 Belmont Ave., Hood River. A memorial service will be held at 11 a.m. Saturday, March 28, at Immanuel Lutheran Church, 305 Ninth St., Hood River. Interment will be around 2 p.m. at the Pine Grove Cemetery.
Gowlan was born Sept. 9, 1917, to Walter and Beatrice (Gowlan) Wells, weighing in at just under 4 pounds. He lived his entire life on and around the family farm in Pine Grove, spending his early years climbing the east hills, working on the farm, and participating in Scouts and 4-H. He also enjoyed attending plays, dances and other activities at the Pine Grove Grange.
He attended Pine Grove School and Hood River High School, graduating in 1935. Following school he continued to work on the family farm operation, filling a variety of roles, from truck driver to all-around mechanic, doing whatever repairs were needed, learning as he went. In 1939 his truck driving experience included delivering fruit from the farm to markets in Los Angeles. Citrus was loaded in Los Angeles and sold along the return trip to Hood River.
In 1954 the farm operation expanded to include warehouse, packing and cold storage facilities at the Pine Grove location to process fruit for Wells and Sons and other orchards in the valley. Although retired in 2000 and not active in the farm operation, he maintained a keen interest in activities throughout the company.
Gowlan married Jeannette Cochran in January 1943 in Portland. Throughout their 60 years of marriage they contributed greatly to the community through service to schools, church and local organizations. Gowlan served on the board of the Crystal Springs Water District, Hood River Supply, the Hood River County School District and the FFA Advisory Council. He was also a member of Hood River Electric Co-op and the Crag Rats, and held a lengthy tenure as the treasurer of Immanuel Lutheran Church.
The changing seasons held great interest for Gowlan. Spring meant picking wildflowers and blossoms for Jeannette. Summer outings with the family included camping, hiking, fishing, Crag Rat climbs and Wells family picnics. He and Jeannette had the privilege of going on educational and Farmer-to-Farmer excursions around the world. His legacy of hard work, love and faith will bless generations of the Wells family.
Gowlan was preceded in death by his wife, Jeannette, in 2003 and brother Bill in 2011. He is survived by his sister Margie Magnusen and his children: Jim and Jean Wells, Sandy and Jim Haek, of Beaverton, John and Susie Wells, Annette Wells Ward, of Salem, and Nancy and Dave Waller; 13 grandchildren and 17 great-grandchildren.
Memorial contributions may be made to Immanuel Lutheran Church Memorial Fund in care of Anderson's Tribute Center.
Arrangements are under the direction of Anderson's Tribute Center (Funerals • Receptions • Cremations), 1401 Belmont Ave., Hood River, OR 97031; 541-386-1000. Please visit andersonstributecenter.com to leave a note of condolence for family.

Condolences are being received online.