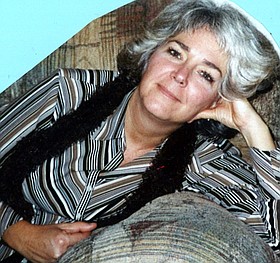 Stacia Fogle
February 11, 1961 - February 4, 2015
"I knew a woman, lovely in her bones.
When small birds sighed, she would sigh back at them…" Theodore Roethke
Stacia Fogle, born in Portland, Ore., died recently of atrial fibrillation. She grew up and attended schools in Hood River. She earned several certificates and diplomas from Hood River, Mount Hood Community College and Portland Community College and two degrees from Portland State University.
While studying to become a teacher she had a raft of quirky jobs (field picking vegetables and berries, thinning fruit, pouring honey from a large to small container while her hands were two feet apart, twisting flies and attaching them to lures, teaching youngsters how to first skip, then dance and then on to ballet, and adding sparkle to a prestigious law firm as a clerk and "gofer," which included serving subpoenas).
After graduation, while working on her MAT she worked as a mortgage loan processor. She was emancipated and on her own at 16 and her parents were her most admiring advocates. She was frugal, ambitious and propelled by a strong work ethic, even as she enjoyed her youth involved in the activities she loved, particularly her friendships, music and dance.
Stacia was preceded in death by her adoring father, Robert Fogle, and husband, James Brooks. She leaves an extended family of nieces and nephews and their parents and children. Stacia was dearly loved by her adult children, son Tucker and daughter Sierra Brooks, and her mother, Jimmie Rooney. Her brother, Daryn Fogle, and the spouses and partners, Susan Fogle, Deborah Brooks, Shaquille McCulla and Charlie Rooney, are all pleased, privileged and proud to have had her in their lives as they all shared warm memories as well as trying times with her. Her many close friends, colleagues, students and her present pet menagerie will sorely miss her daily attention.
Stacia would consider her prime legacy to be her beloved grandchildren, Jeffrey James Brooks and Khalia Irie Rose McCulla. She was ecstatic about their births and the unfolding possibilities of their lives.
Though her birth and marriage families could be contentious (not good game losers, either), as informed but opinionated, independent individuals they gave ground by agreeing to disagree, and as Voltaire advocated: "I'll defend to the death your right to say it."
Though Stacia had been intermittently ill for a number of years she valiantly carried on in her career as an excellent elementary teacher at West Gresham Grade School, deeply treasured and admired by parents, children and staff. She was most thankful to her colleagues for their generosity in the sharing of their own sick leave days. The support from her union, the OEA, earned her gratitude as well.
We all thought of Stacia as fun, funny, gregarious yet mysterious, thoughtful and compassionate, with a dollop of joie de vivre. She was a gorgeous beauty. Her students thought so, too, especially when she featured purple streaks in her hair and blue and pink braces. What fun to be in her class!
We regret and mourn that Stacia's feisty being gave in to her recalcitrant body, but are heartened to know that her molecules have a claim on us still as they circulate in the universe, forever adding diversity to our environment, prodding us to remember her with love and joy.
A memorial celebration was held at West Gresham Grade School on Friday, March 13. A celebration of life will be held at her home and garden in late spring.