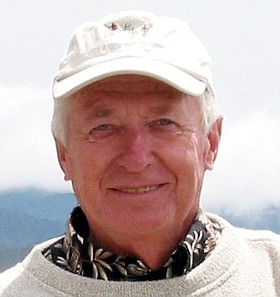 Richard "Dick" Semmes
unknown - April 12, 2015
Richard "Dick" Semmes passed away peacefully with his family by his side on April 12, 2015, after a long struggle with several tough bouts of cancer. Dick fought courageously and bravely for several years, never wanting to give up.
Dick grew up on the family homestead in North Yarmouth, Maine, primarily a dairy farm that they slowly converted to a horse riding school. He hunted, fished, rode horses and repaired old cars. Because of the values received from his parents he loved to work and build, which he considered his hobby and brought great satisfaction and enjoyment throughout his life.
After graduating with an engineering background Dick would travel the country for United Telephone installing telecommunications systems, the high-tech of its time. One such assignment lead him to Hood River where he instantly fell in love with the mountains and the Columbia River. He decided to settle and would spend the next 35 years calling Hood River his home.
He brought with him his many hobbies, interests and work ethic; the Gorge was the perfect place to continue his adventurous interests. He would become one of the founding members of the Hood River Yacht Club, building the first Yacht Clubhouse and starting the first sailing school in the Gorge in 1968 at the old marina. Co-owner of the first keelboat to call Hood River its homeport, his Santana 22 is still sailing the windy conditions of the Gorge today. His love for the ocean and sailing was passionate and would earn him the nickname "Skip" by family and friends. He designed courses and taught celestial navigation, built a 36-foot sailboat, logged numerous nautical miles off-shore and sailed for years in the San Juan Islands with his family.
An avid skier, he was one of the earliest members of the Mt. Hood Ski Patrol, and a ski instructor at Cooper Spur Ski Area. The Cascade Mountains would hold a special place in his heart as he hiked the many trails and would summit many of its peaks.
He was best known by his family and friends for always having one or more projects going on at any one time, and was very handy and resourceful. Dick built a rustic cabin in Mount Hood from the wood of an old barn he salvaged and rebuilt several homes. His interests always kept him busy as he enjoyed tennis, photography, archery, and would always have a garden.
In 1993 Dick returned to Maine and began renovating an 1850s farmhouse in Round Pond. He met his life partner, Judy Ribeiro, and together they completed the building of their home, traveled the country in their RV, and spent the winter months in Fort Myers, Fla. Sailing continued to be a large part of their lives – adventures with friends in Europe and cruising the Maine Coast on one of Dick's numerous boats he purchased and renovated. He spent many fulfilling hours playing his guitars, striving to learn new jazz chords, his favorite music.
He made an impact on everyone he met, and will be missed.
He leaves his love and partner, Judy Ribeiro, of Round Pond, Maine, and his beloved families of Maine and Oregon.
A memorial remembrance will be celebrated this summer both in Maine and in Oregon. Donations in Dick's memory can be made to Skyline Farms, a nonprofit organization, P.O. Box 144, North Yarmouth, ME 04096.