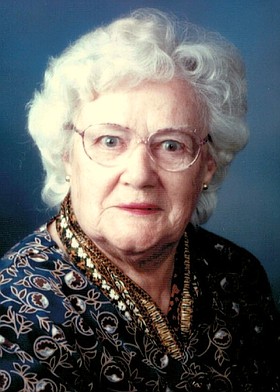 Hazel "Maude" Baskins
July 8, 1919 - May 1, 2015
Hazel "Maude" Baskins passed away at Hawks Ridge Assisted Living in Hood River on May 1, 2015, at the age of 95. She was born on July 8, 1919, in Gross, Neb., to Fred Bernard Picking and Bertha Elizabeth (Bishop) Picking. Fred's brother James married Bertha's sister Pearl, and the two families grew to four children each, as they followed various occupations together, taking them to Wisconsin, Minnesota and Missouri before Fred's family set out for Oregon in 1937.
Fred and his brother James had worked in the Hood River-White Salmon area circa 1910, liked what they saw, and that led them to return here with their families after the Depression. James and his family followed along to Odell in 1941. Maude was the only girl in her family, and among her "double" cousins, Bud Picking was the only boy. Maude and her older brother Boyd had received an eighth-grade education before leaving Missouri, while her younger brothers Melvin (Chuck) and Vernon completed high school in Odell. For their entire lives, all eight cousins remained as close as if they were from one family.
After settling in the Odell area, Maude worked as a housekeeper and also participated in a local youth group. The Baskins family and the Picking families were acquainted with each other while living in Missouri, and Maude had attended school there with Leland Baskins, whose family had left for Hood River just a few days prior to the Pickings. Maude and Leland began dating and were married in Stevenson, Wash., in 1940.
Maude and Lee raised three sons, first living in the Neal Creek area where Lee worked for O.W. "Pep" Mann. In the early 1940s they moved to Paasch Road where Lee was employed as foreman for Kirstina and Allen Paasch for 25 years. Maude worked as a cook's helper at Pine Grove School, and in the orchards thinning and picking fruit. She also worked in the strawberry fields for the Yamaki family. Maude was a Cub Scout den mother, and enjoyed sewing, gardening, fishing and camping.
When the boys were older, Maude worked in several packing houses, doing jobs such as checking and stamping packed boxes. However, the job she worked at the longest and did very well was sorting fruit. Her favorite group of sorters and employer was Bickford Orchards.
Maude is survived by her brother Vernon, of Corvallis; her sons Leland Jr. of Marina, Calif., Eugene and Robert, both of Hood River; and by seven granddaughters, 11 great-grandchildren, and many nieces and nephews.
She was preceded in death by her parents; her husband, Lee Baskins, in 1989; and brothers Boyd (in 2004) and Chuck (in 2014).
Her funeral will be held at 1:30 p.m. Saturday, May 9, at Anderson's Tribute Center in Hood River with a reception immediately following for family and friends.
Memorial contributions are to be made in Maude's name to Heart of Hospice, 2621 Wasco St., Hood River, OR 97031 or Oregon Humane Society, 1067 N.E. Columbia Blvd., Portland, OR 97211-1411 (oregonhumane.org/tributes).
Arrangements are under the direction of Anderson's Tribute Center (Funerals • Receptions • Cremations), 1401 Belmont Ave., Hood River, OR 97031; 541-386-1000. Please visit andersonstributecenter.com to leave a note of condolence for family.

Condolences are being received online.