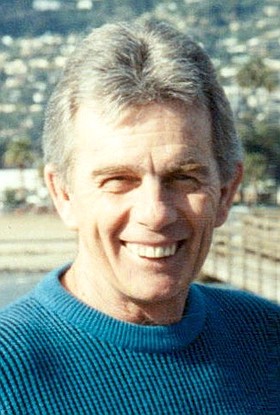 William "Bill" Bassham
March 25, 1935 - May 2, 2015
William "Bill" Bassham, 80, of Vacaville, Calif., peacefully went to be with his Lord and Savior, Saturday morning, May 2, 2015. His wife Anita and his youngest son, Scotty B., were at his side.
Bill was born March 25, 1935, in Santa Ana, Calif. He was the youngest of five children born to Vernon and Lucille (Lambert) Bassham (both deceased). While most of his youth was spent growing up in the Southern California area, he also spent time in Utah as well. He played football, basketball, and ran track while in school. His early work years were spent at Universal Sign Company in San Francisco before working at Kaiser Steel in Napa, Calif.
In 1954 Bill met the love of his life, Anita Sue Miller. On April 9, 1955, they eloped to Reno, Nev., with life-long friends JoAnne and Tom Percy. Last month marked their 60th anniversary. They made their first home in Vallejo, Calif., and nine months after they got married their first son, Keith Allen, was born. Two years later, a daughter, Terri Sue, was born followed by their youngest son, Brian Scott.
Bill moved the family to Napa, Calif., in the summer of 1965 and he settled into a career at Mare Island Naval Shipyard working as a nuclear pipe fitter and shop planner while Anita worked at Kaiser Hospital in Vallejo, Calif., and Kaiser Clinic in Napa.
As a family they spent summers camping at Lake Berryessa, Clear Lake and Whiskeytown Reservoir. He created great memories with trips to Disneyland, Universal Studios (before it was a theme park) and Yosemite National Park. Bill passed on his love for the San Francisco Giants by taking the family to countless games at Candlestick Park where they watched Hall of Famers Willie Mays, Juan Marichal, and Willie McCovey. On Sundays in the fall the Rams, Raiders or Forty-Niners football games were always on the tube.
In the spring of 1965 Bill took oldest son Keith to a Little League tryout at Wilson Park in Vallejo. He later found out that the team that Keith was placed on had no coaches so he volunteered to coach the "Hotshots" and thus began a 20-year career coaching Little League, Fly League, Babe Ruth and Joe DiMaggio baseball teams. His 1967 Napa Fly League team, the Wasps (all the teams had insect names), won the South Division, winning a three-way playoff against the Termites and Scorpions. They went on to beat the Hornets (North Division winners) in a best of three series to win the Napa City Championship. Bill coached All-Star teams at each level and served on the boards of each as well. He had a passion for kids and was a father figure to more than just his own children.
While living in Napa, Bill and Anita's kids were all active in baseball, softball, track, football, and wrestling, and if Bill wasn't coaching they were hauling their kids and somebody else's kids to a game or a practice. When the kids were in high school Bill and Anita very rarely missed a Vintage Crusher game and were active in the original Vintage Booster Club. Bill even painted the original Vintage Crusher sign that stood over the Vintage dressing room at Memorial Stadium for many years.
Bill started riding off-road motorcycles in 1967 and loved to spend weekends riding with family and friends. A lifelong motorsports enthusiast, he would take his kids and their friends to watch the drag races in Fremont, Calif., and motocross races in Livermore. When his brother Paul raced hardtops on the dirt track in Vallejo, Bill would always bring his sons to watch their uncle speed around the quarter mile. The Indy 500 was a family event for all of his brothers and nephews as they watched on closed-circuit TV in Oakland during the '60s before it became televised on the networks.
After retiring from Mare Island in 1990 Bill and Anita moved to Rancho Tehema, Calif., where they "settled" for six years. Getting the urge to travel more and spend time with their oldest son and his family they moved to Hood River, Ore., where Bill worked at the Historic Columbia Gorge Hotel. Bill also helped out during Friday night football games as a spotter for the announcer. During wrestling season he helped out as a timer and scoreboard operator and worked many district, state, and regional tournaments. He also thoroughly enjoyed following the athletic exploits of his grandchildren whether he was on the sidelines, in the stands or reading about it in the papers. In every venue that he worked or visited, he developed great and lasting friendships with the officials, the game or tournament staff and with the athletes as well.
In 2000 Bill and Anita purchased a fifth-wheeler and started 12 years of travel to Yuma, Ariz., in the fall/winter and Troutdale, Ore., in spring/summer. They also traveled to Salmon, Idaho, to visit daughter Terri and her family and spent time in Washington, Idaho, Utah, Arizona and Nevada. Bill had to give up his motorcycle in order to travel so he took up the challenge from his sons and finally started playing the game of golf. Not only did he start playing but he also became a rabid fan and was an ardent supporter of any event that Phil Mickelson played in. Bill particularly enjoyed the time with family and friends on the golf course and enjoyed helping his grandchildren learn the game. While in Yuma and Troutdale they developed many wonderful relationships and left behind a host of great friends.
Bill and Anita moved back to Northern California in April 2014 to be closer to Bill's brother Paul and Anita's sister MaryLee and her brother DeWayne. Again new friends, a new church, new Bible studies, and connections with old friends in Napa and Vallejo made for busy days until Bill's health began to decline this past March. In the weeks before his death he was able to meet with many old friends and close relatives, recant old stories, laugh, cry, and watch the Giants sweep the Dodgers on TV. When he left us he was at peace with a life well-lived and friends and family well-loved.
He was preceded in death by his parents; stepfather Shorty Lambert; stepmother Marge Bassham; brother Bob Bassham; sisters Jeanie Wickard and Katie Colan; and grandson Lucas Williams.
Bill's warm grin and sometimes cranky demeanor will be missed by a host of folks. He leaves behind his soulmate and chief referee of 60 years, Anita; children: Keith (and Chavalla) Bassham, of Hood River, Ore., Terri (and Kurt) Williams, of Salmon, Idaho, Brian Scott (and Anabela) Bassham, of Concord, Calif.; brother Paul (and Sharon) Bassham, of Clearlake, Calif.; grandchildren Levi (and Ashley) Cloud, of Napa, Calif., Jamie (and George) Polley, of Santa Rosa, Calif., Bo (and Denae) Wilson, of Norfolk, Va., Nicole Williams, of Salmon, Idaho, Makenzie Bassham, of Hood River, Ore., Garret Williams, of Boise, Idaho; and three great-grandchildren: Levi Cloud Jr., Shelby Polley, and Riley Wilson.
Please join his family for a Celebration of Bill's Life service, which has been scheduled for 1 p.m. Saturday, May 16, at Crosswalk Community Church, 2590 1st St., Napa, CA 94558. Arrangements are under the direction of Tulocay Cemetery Funeral Home and Crematory, 411 Coombsville Road, Napa, Calif. We ask that you wear any and all San Francisco Giant apparel and ask you to light a candle for Dad at tulocaycemetery.org.

Condolences are being received online.