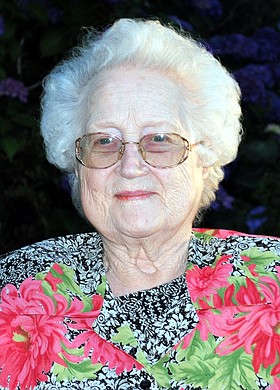 Gertrude Louise Leininger
July 22, 1918 - May 9, 2015
After a short illness our mother, Gertrude Louise Duvall Leininger, age 96, left us Saturday, May 9, 2015, for her heavenly immediate family: husband Bill Lenard Leininger, brother Roy Donald "Don" Duvall, parents Gertrude "Gertie" Proctor Duvall and Roy Locke Duvall. We didn't want to lose her – ever – we treasure our time spent with her. She was our loving and loyal mother.
Louise was born July 22, 1918. Her priority in life was her family. She and Bill were married in 1937. They had three children: Jan G. Leininger, Bill R. (Karen) Leininger, and Linda Leininger Oram; three grandchildren: Tera Leininger (Jerry) Semanko, Crista Leininger James and Bill J. Oram; three great-grandchildren: Austin Marker, Nolan Marker and Katarina James. The Leininger family became a welcome addition to Louise's Duvall family and often the "Leininger Boys," Bill's brothers, would return to Mosier to assist with the farm, hunt and/or socialize. The Leininger hunting camps, particularly those in the Heppner area, created many good memories.
Louise's mother, "Gertie," came from London, England, in 1909 with her parents (John and Matilda Proctor) and six siblings to manage the Larchmont Ranch behind Mosier. Gertie and her siblings ("Nellie," Frank, "Jack," Ruby, Dena and Gordon) were later joined by another sister, "Dora."
Louise's father, Roy, lived in the early 1900s behind Mosier with his parents (David and Anna Louisa Locke Duvall) and his siblings (Ralph, Cecil, Grace, Dean and Guy). This branch of Louise's family (the Lockes and Hardisons) had traveled on the Oregon Trail in 1845 to homestead in Polk County.
Louise and Bill were both raised around Mosier. Louise attended Mosier School for 12 years and graduated in 1936. Around that time, she met Bill at a church revival meeting. After spending their early married years working construction (Coulee Dam and the Bremerton Navy Yard), Louise and Bill returned to Mosier to purchase the former Macrum, Dan Wuille Corporation and Duvall farms. Louise was happy to again be close to her family. At home she assisted with the farm operations, worked as Mosier School District No. 52 clerk in the late 1940s and early 1950s, and managed the Mosier Fruit Growers Association Office from 1952-75. It was a busy time.
Louise truly loved Mosier Valley, its natural beauty and orchards, its nearby mountains and streams, and would have never chosen to live anywhere else. Her favorite view was from westbound I-84 at the curve where Mosier and the Columbia River Gorge suddenly come into view. She traveled more extensively within the United States in retirement and particularly enjoyed trips to the Hawaiian Islands with her daughters.
Louise was baptized in the Mosier First Christian Church and enjoyed many activities with The Christian Endeavor. She was a member of Mosier Grange No. 234, The Discovery Center & Museum, the Wasco County Historical Society, Wasco County Pioneers, Mid-Columbia Senior Center and Oregon Retired Educators Association.
In addition to her children, grandchildren and great-grandchildren, Louise is survived by 17 nieces and nephews; Proctor cousins: Addie Schwartz, Sandy Miller, Tom Proctor, June Isaak, "Lucky" Proctor, Terrie Maag, Ken Proctor, Mary Stiller and John Proctor; Duvall cousin Al Duvall.
Services will be held on Sunday, May 17, at 2 p.m. at Spencer, Libby and Powell Funeral Home, 1100 Kelly Ave., The Dalles, OR 97058. Reception to follow.
Donations in Louise Leininger's memory may be directed to Mosier Community School Foundation, in care of Susan Vallie, community coordinator, Mosier Community School, P.O. Box 307, Mosier, OR 97040 or Legacy Diabetes Institute, Good Samaritan Hospital, 1040 N.W. 22nd St., Room 300, Portland, OR 97210.