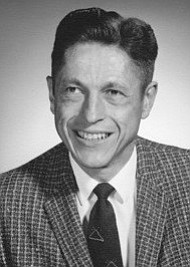 Samuel Edward Pobanz
May 3, 1919 - April 28, 2015
Samuel Edward Pobanz, beloved doctor who started the first nurse practitioner program in Oregon, passed away peacefully of kidney failure on April 28, 2015, in Eugene, Ore., five days short of his 96th birthday.
He was born May 3, 1919, to Philip and Hallie Pobanz in Inkster, N.D., and was the oldest of four children: brothers Donovan Pobanz, Leonard Pobanz and sister, Phyllis Henerhoff. Throughout his growing years, his family lived in many small towns in the Midwest, including the states of Indiana, Illinois, North Dakota, Minnesota, Iowa and Georgia. At the age of 9, his father asked him to play the piano in his father's church. Sam had never been taught to play the piano so he "learned on the job," and would play every Sunday in the three churches that his father ministered.
Sam received his bachelor's degree from Elmhurst College, Ill., in 1941 and medical degree from Indiana University Medical School in 1944. During World War II, doctors were in great demand and as a result, he was rushed through medical school in order to serve. He was recruited by the Army in 1945 (for 18 months) and again in 1952-1953, stationed in Fort Benjamin Harrison, Ind.
Sam married Florence Helen Koops in her mother's home in Glyndon, Minn., in 1942 and together raised five children: Kris, Kay/Mariah, Betsy, Nancy and Alan. In 1948 Sam and Florence moved from the Midwest to Ontario, Ore., and built a beautifully designed, unique home on 18 acres. He joined the Ontario Clinic in 1949. His rural practice included making house calls and educating the outlying communities on medical and health issues. As the Ontario City Health Officer, his mission was to convince the people of Ontario to get rid of their outdoor toilets. He also found membership in Kiwanis a rewarding way to be involved in the civic side of Ontario.
Aside from the practice of medicine, music was one of Sam's most significant contributions to his family and the community. In the mid-'50s through 1970, he organized and directed the Treasure Valley Chorus, thoroughly enjoyed by many in the community.
From about 1955 until 1965, Sam faithfully (but reluctantly) took his family skiing at the Little Alps ski area, three miles downhill from Anthony Lakes (near Baker, Ore.). It was an enormous undertaking for the father of a family of seven, but he did have happy memories of those times. The Pobanz family built a large, rustic cabin with another family near the ski lodge, where they spent many a weekend year-round.
In 1966, Sam took a three-year leave from his medical practice in order to create the Health Services program at the newly established (1962) Treasure Valley Community College. It continues to be a strong nursing program. There he taught personal health and served as the medical director and coordinator of the first nurse practitioner program in Oregon, originating in 1973. He also composed the music for TVCC's fight song and college hymn, with lyrics written by Ed Haynes. From 1975-1982, he served as medical director, Presbyterian Nursing Home, Ontario, Ore.
Following the years at TVCC, Sam opened a solo practice across the street from the Holy Rosary Hospital. He took dynamic steps to prevent rheumatic fever by increasing the use of throat cultures in order to diagnose strep throat infections. Because of his actions, more strep throat infections were diagnosed and treated. In many ways, his foresight and original approaches in medicine led to some of the most innovative and important advances in the field.
In 1982, he divorced his wife, Florence, and moved to Hood River, Ore. There he married Aileen Hutchinson Steeves in 1982 (her sons are Robbie Steeves and Brian Steeves) in her home. He opened a solo practice for several years in Hood River. He also commuted to Boardman, Ore., to provide services at the Morrow Clinic until the long commute became wearisome; after that, he worked in the Hood River Hospital emergency room. He retired in 1987. Upon the death of Aileen in 2010, he moved to Eugene, near Nancy.
Throughout his life, he was passionate about music, art and creating sculpture from welded scrap metal, weathered wood and other found material. He enjoyed discovering interesting textures, patterns and shapes in nature and man-made objects. In Hood River he was an avid supporter and volunteer for the Columbia Center for the Arts and Providence Hospice of the Gorge, and Compassion and Choices, an end-of-life organization in Portland.
For him, practicing medicine was a privilege and an honor. He was also a loyal blood donor to the Red Cross, having given at least 100 gallons throughout his adult life.
Sam is survived by his children and their spouses: Kris and Deanna Pobanz, of Ontario, Mariah Kaye, of Seattle, Betsy Pobanz and Barry Newberger, of Austin, Texas, Nancy Pobanz and David Wade, of Eugene, Alan Pobanz and Kristine Newman, of Phoenix, Ariz./Menlo Park, Calif.; and his two granddaughters, Kelsey Pobanz and Hannah Santiago.
His parents, three siblings, and spouses, Florence and Aileen, preceded him in death.
A remembrance celebration will be held Saturday, June 27, 2-5 p.m. at the Four Rivers Cultural Center in Ontario. In lieu of flowers, please consider contributing to the Florence Pobanz Scholarship Fund at the University of Oregon, to which Sam contributed for many years. The scholarships awarded are for undergraduate fine arts students from rural areas of Oregon. Contributions may be made by check, payable to the "UO Foundation" and mailed to the University of Oregon Foundation, 1720 E. 13th Ave., Suite 410, Eugene, OR 97403-2253. Please make sure that "Florence Pobanz Scholarship Fund" is written on the check itself.
For more information, call Nancy Pobanz, 541-513-6023.
Arrangements are under the direction of Anderson's Tribute Center (Funerals • Receptions • Cremations), 1401 Belmont Ave., Hood River, OR 97031; 541-386-1000. Please visit andersonstributecenter.com to leave a note of condolence for family.

Condolences are being received online.