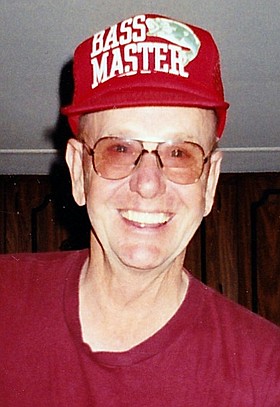 Paul Jay Henson
April 19, 1929 - May 10, 2015
Our community and family have lost one of the most beautiful smiles God ever created. A man of quiet, strong faith in God has gone to be with the Lord.
Paul Jay Henson was the fifth child born to Samuel A. and Gussie J. Orr Henson on April 19, 1929, at Marsing, Idaho. He passed away at home in Hood River, Ore., with family members by his side on May 10, 2015, at age 86.
Jay was raised in Homedale, Idaho. As a young adult, he worked in Glacier Park, Mont., as a cowboy with his uncle Ted Orr. Together they managed 1,000 head of cattle. Jay never met a cow, a horse or a member of "that race, the Human Race," that he didn't like.
In 1947 he married Betty Melton and they had two children, Lora Lee and Paul Dewayne. He moved to Hood River and worked at Diamond Fruit and then for Duckwall Pooley for 26 years as the shipping/receiving foreman. He was fond of saying "I could drive that Hyster from Hood River to Pocatello, Idaho, in reverse." After retirement he enjoyed his days as a greeter at Walmart, sharing his smile and hugs with customers for nine years and one month.
He met the love of his life, Elizabeth "Ann" Kaley Fischer, on her first day of work at the Hood River Hotel in 1970. He wooed her with chocolate milkshakes. His love for her and the six children she brought to their marriage of 31 years never waned. Jay and Ann had one daughter, Frankie, who claims to be an "only child with eight siblings."
Jay was preceded in death by both of his parents, four siblings, a son, one grandson and his wife Ann.
He is survived by his sister, Frankie Schierman; and children Lora Lee Henson Hopkins, Paul Dewayne Henson, Steve Kaley (Marta), Annie Fischer Simonds, Candy Fischer, George Fischer (Debi), Darla Fischer Davis (Dale), Jacob Fischer (Luciana) and Frankie Henson Fleming (Scott). He is also survived by 20 grandchildren, 26 great-grandchildren and 15 great-great-grandchildren.
Jay would want to remind his family and friends that "he loved you and don't you ever forget it!"
Services will be held at Tucker Road Baptist Church on May 25 at 2 p.m. Reception following with Jay's two favorite kinds of pie, "Hot or Cold!"
Memorial contributions may be given in his name to Doernbecher Children's Hospital, The Salvation Army and Providence Hospice of the Gorge.