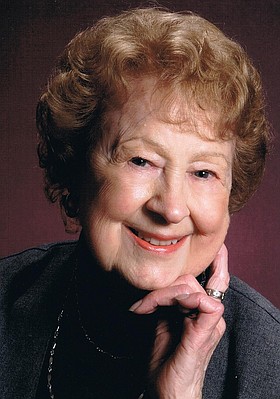 Gladys Jean Burris
August 24, 1933 - May 16, 2015
Gladys Jean Burris passed away May 16, 2015, in The Dalles, Ore. Gladys was born Aug. 24, 1933, in Alcester, S.D., to James Valles Boyer and Elizabeth Olive (Linblad) Boyer. She joined older sister Gloria and later her two younger brothers, Jerry and Garland, were born.
In 1946, the Boyer family moved to Hood River, Ore. Gladys attended school in Hood River and it is there she met her future husband, a returned World War II Navy veteran, George Burris. The young couple moved to The Dalles in 1955, where they purchased a home in 1960 and raised three sons: Steven, David and Gregory. She resided in her home until her death.
After Gladys attended beauty school and became a beautician, she continued in that occupation for 35 years with a devoted following.
Gladys was preceded in death by her husband, George; youngest son, Gregory; her older sister Gloria; younger brother Garland; and parents, James and Elizabeth Boyer.
She is survived by her sons, Steven James and David George Burris, and grandchildren Rene (and her husband, Chad), Derek and Tyler; great-granddaughters Demi and Nyah; and great-great-grandson Isaiah. Lifelong friends include Gwen Fisher and Kathy Quinata, and Kathy's daughter Marissa and granddaughter Kaleeyah.
Gladys and George attended First Christian Church in The Dalles and were members of the congregation for many years. In addition to her love of God, Gladys was an avid reader and used her green thumb to work her magic with her plants, flowers and lawn. When not working in their yard, George and Gladys took every opportunity to travel, whether a short jaunt or extended vacation, they relished checking out the sights and spending time together.
Paramount among Gladys' last wishes was her desire to remain in her own home until her passing. Facilitating in making this a reality were Heart of Hospice, Laurie Notos, and numerous friends and family members. Their love and care is deeply appreciated.
Gladys was a people person and when you first met her, it was as if you had known her all your life. She had numerous friends and a large family that loved her deeply. She was always there to listen and enjoyed life to the fullest. Her love of cats was well-known by all. She will be dearly missed.
Services will be held at the First Christian Church at 909 Court St. in The Dalles on May 30 at 11 a.m. A reception will follow. In lieu of flowers memorials may be made to The Dalles First Christian Church or Home at Last, 200 River Road, The Dalles, Ore.
Arrangements are under the direction of Spencer, Libby and Powell Funeral Home, 1100 Kelly Ave., The Dalles, OR 97058; 541-296-3234.