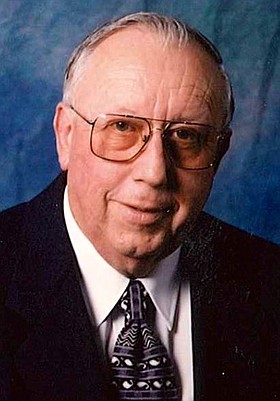 Richard "Rich" Carrol Cannon
January 21, 1924 - May 9, 2015
Richard Carrol Cannon, 91, born on Jan. 21, 1924, passed away in the company of his beloved wife on Saturday evening, May 9, 2015, at his home in Hood River, Ore. He is survived by his wife, Ruth Ellen Cannon, his brother William "Bill" Weslake Cannon, son Terry (and Jacqlin) Cannon, granddaughter Maija (and Rick) Roe, and grandson Cy (and Kimberly) Cannon, all of Hood River. Also, stepsons, Doug (and Teresa) Keller and Ted (and Amy) Keller. He also has many nieces and nephews and others so dearly loved by him.
He was preceded in death by his parents, Weslake and Hazel (Kneale) Cannon, first wife Doris Jeanne (Mickey) Cannon, and grandson Zachary Cannon, brother Clarence Cannon and sister Ruth (Cannon) Mathiowetz.
A memorial service with reception following will be held at 2 p.m. on Saturday, May 30, at the Kingdom Hall of Jehovah's Witnesses, 1619 Tucker Road, Hood River.
Cannon Brothers Drywall was his line of work in the community for many years. He loved people and as one of Jehovah's Witnesses he showed that by telling others about the Good News of God's Kingdom in his preaching activity at every opportunity.
Following is a brief summary of his life as he recorded for friends a few years ago:
In my life I have had my share of hard knocks. I've no doubt made many mistakes, but I can truthfully say I always tried to correct them and not make the same ones again, and not let the hard knocks get the best of me or get me down. I always got up, brushed myself off and kept right on going.
I've always felt that when things don't work out for you, for example employment, just try doing something else until you find what does! I've done all kinds of farm work starting with my own family's farm here in Hood River. Such as taking care of Black Angus cattle, milking cows, caring for chickens and pigs. Over the years I've been in every type of orchard work, including knocking olives, picking, packing and hauling fruit here in the valley and in southern California. I have also drilled water wells, worked as a carpenter, finished cement, done roofing, felled trees and pulled stumps. For a time I worked in a lumber mill and also drove cat on road construction.
Then I found what I wanted to work at as a trade for the rest of my working days: drywall. I can say that I enjoyed doing so from 1951 to 2009, then I retired. My dad always told me, "Just keep working and you won't get behind that way!" How true that proved to be in my life. Looking back I've had a full and satisfying life. I learned to fly airplanes and enjoyed it for many years safely. In my youth I learned to box quite well.
My greatest love, though, is being one of Jehovah's witnesses. I have always put my whole heart into serving Jehovah God, and will continue to serve to the best I can. I've worked at our world headquarters in New York City and in the international building as well as helping in the construction of Kingdom Halls and Assembly Halls in three states and one foreign country. I've served in the local congregation for many years as an elder. What a joy and blessing this service has proved to be. I've met and worked alongside so many wonderful people and count them all as family.
As to my personal family life I have been blessed by Jehovah with two wonderful Spiritual sisters that became my wives. I can't say enough about them. Both excelled in everything that's dear to me. I met and married my first wife, Doris Jeanne "Poncho" Mickey, in 1948. We had a very happy life together for 41 years, until her death in 1989. She was more quiet and supportive of me in some of the real tough times after World War II. She also gave us our son, Terry.
In 1966 we moved back to Hood River from Escondido, Calif., to be close to family. After our son graduated, Doris Jeanne worked along with me, my brother Bill and his wife, Joyce, in our business, Cannon Bros. Drywall. Poncho was at my side as a loving wife and devoted Witness of Jehovah all those many years.
In 1996 I met and married Ruth Keller while helping on the construction of an Assembly Hall of Jehovah's Witnesses in California. Not as quiet as my first wife, Ruth keeps me on my toes, so to speak. A more wonderful wife who could ask for. Ruth has saved my life three different times. If she had not been right by me and had not known as much as she does about medical things I would have died. I have great respect for her as a teacher of the truth. She has helped several to learn Bible truth since our marriage, and continues to help others in so many ways.
Ruth has made a peaceful home for us. We are very close and help each other in every way we can. There are so many things that make me feel that she is a gift from Jehovah, as was Doris Jeanne. Two wonderful spiritual women. I hope I always treated them with respect, kindness, and gentleness. Jehovah God loves ones with qualities such as theirs just as do I. With my marriage to Ruth, I came to love her sons, Doug and Ted. Also Ruth's sister Kay and brother Bill were especially fun as they loved to call and try to trick me into believing they were prospective drywall customers or salesmen – my crazy family from California! I greatly appreciated Ruth's brother Frank for spending two weeks helping me after major surgery.
Last but by no means least, I had the most wonderful family to be brought up in. My dad and mom were the best! So loving and kind and helpful in every way. My sister and brothers were always close to me. We could always depend on each other. Two men I have spent my life with are my son Terry and my brother Bill. I treasure them both and love them from the bottom of my heart. For the first 22 years after returning to Hood River our families lived on the same street where my brother Clarence and his wife, Elaine eventually joined us. I cherish the memories of being so close to Terry and Jacqlin and being able to spend time with my grandchildren, Zachary, Maija and Cy as they grew up.
We also spent many happy camping and vacation trips together in Oregon, Arizona, California and Mexico. Many of those memorable times also included Doris Jeanne's brother Lyle and wife Vera and their family. They were a close part of my life and I will always hold them dear to me. What a blessing ALL of my family always were. I truly miss those that are gone. My hope is to be together again in the New World so close now.
There are many others right here in the Valley and other parts of the world, too many to name, I'll always hold dear to me. Many are sleeping in death. I'm sure we will meet again in the New World under Jesus Christ's righteous rule.
Arrangements are under the direction of Anderson's Tribute Center (Funerals • Receptions • Cremations), 1401 Belmont Ave., Hood River, OR 97031; 541-386-1000. Please visit andersonstributecenter.com to leave a note of condolence for family.

Condolences are being received online.