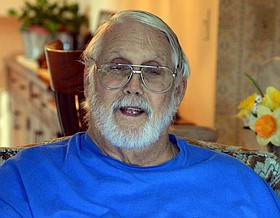 Eugene "Gene" Albert Mielke Jr.
March 1, 1946 - October 28, 2015
Eugene Albert "Gene" Mielke Jr., 69, died Oct. 28, 2015, at Providence Portland Medical Center in Portland, Ore. Gene was born March 1, 1946, to Eugene Albert Mielke Sr. and Anna Margaret Aron in Visalia, Calif.
In June of 1968 Gene married Karen Lee Ragle. They moved to San Luis Obispo for Gene to continue his education at Cal Poly. Next they moved to East Lansing, Mich., to continue education at Michigan State University and he received his Ph.D. in pomology in 1974. In 1975 they moved to Tucson, Ariz., where Gene taught some classes at the University of Arizona and helped push the growing of wine grapes and making wine. While there, he collected many bottles of wine.
In 1984 they moved once again, to Hood River, and Gene became superintendent of the Experiment Station. The moving van had a cooler in it to keep the wine at a constant temperature. It was stored in the house basement at the Experiment Station until they moved into their current home in which Gene had built a wine cellar.
While in Tucson and thanks to his stepfather, Luke Waterman, W6ILR, Gene became very interested in ham radio. He continued his passion of ham radio knowledge and after moving to Hood River, he became involved with the Radio Amateurs of the Gorge (RAGs). Since 1984, Gene and RAGs have been a vital part in the Cross-Channel Swim, making sure all swimmers are safe and accounted for.
Once his son became involved with the Hood River Valley Swim Team, Gene became involved in officiating. At first it was just the local level, but with time, he officiated at state championship meets and western zone meets. He was also involved in officiating at Paralympic meets across the United States.
Although his size may have seemed intimidating, those who knew Gene knew he was very tender-hearted and generous. He was always willing to help others, even at a moment's notice. Gene encouraged everyone to be the best person they could be. Gene always stood up and did the right thing, even if it wasn't the "popular" thing to do. He created many long-lasting friendships in both his professional and personal life and will be greatly missed by everyone who knew him.
Gene was preceded in death by his parents, stepfather and uncle.
Gene is survived by his wife, Karen Mielke; daughters Erika and her husband, Trent, of Beaverton, Ore., and Erin and her husband, Billy, of Beaverton, Ore.; son Ed of Phoenix, Ariz.; granddaughters Moya and Jordyn; and grandson Griffyn.
Catholic Funeral Services are planned for 10 a.m. Thursday, Nov. 5, at St. Mary's Catholic Church, 1501 Belmont Ave., followed by graveside rites at St. Mary's Catholic Cemetery.
Arrangements are under the direction of Anderson's Tribute Center (Funerals • Receptions • Cremations), 1401 Belmont Ave., Hood River, OR 97031; 541-386-1000. Please visit andersonstributecenter.com to leave a note of condolence for family.

Condolences are being received online.